'Normalcy' growing in Wisconsin communities
With over a year having passed since COVID-19 began its spread across the world, several of the adaptations and safety measures that some governments and communities have implemented are gradually beginning to lessen to resemble a more normal lifestyle.
Wisconsin communities such as neighboring Washington County are transforming to resemble pre-COVID life.
As there are less COVID cases to be reported and more people receiving vaccines throughout Wisconsin, our everyday lives are slowly beginning to resemble how they were pre-COVID.
Some areas of Wisconsin are taking more sizable steps in lessening restrictions. On March 17, Washington County Executive Josh Schoemann issued a statement announcing the county is ready for a full return to normalcy.
In a March 18 website post, Josh Schoemann wrote, "It is with measured optimism and a hopeful spirit that today I announce and acknowledge the people of Washington County have begun a new phase of this COVID journey. This new phase is best characterized as a movement toward a full return to life as we have long known it, free from government restrictions and recommendations, and renewed in our commitment to fully embracing personal responsibility and individual liberty with love for our neighbor."
Despite the ongoing pandemic and statewide face mask mandate, the move leaves mask-wearing up to each individual and organization in Washington County. The announcement also allows all dining, entertainment and businesses of Washington County to open up capacity.
As Washington County reopens and lifts all government-enforced restrictions, some Homestead students formed their own opinions on the monumental decision the county has made.
"I do not think it is a good idea," Maura Whitaker, sophomore, said. "I want to get back to normal as much as the next person, but until case numbers are down and most people are vaccinated, I believe that mask mandates and social distancing requirements should stay in place in order to protect those who aren't vaccinated."
Lauren VanVooren, sophomore, said, "I believe masks are very important to stop the spread so I appreciate the mandates that are in place. However, there may be a bigger reason for the lack of enforcement and they can execute whichever is best for their county."
Further impactful changes are being put into play throughout the state. On March 19, Milwaukee put into effect the Phase 6 Order that made significant changes to the previous public health order, Order #4.4.
The City of Milwaukee Health Department said, "It is important to note that general provisions regarding safe business practices and protective measures remain in place. That includes masking, social distancing, surface cleaning, and policies to restrict employees who have been exposed to the disease or show COVID-19 symptoms."
Two changes included the opening of museums and an impactful adjustment to capacity allowance in sporting events and recreational activities. "Museums can be open with capacity limits and protective measures including masking," The Milwaukee Health Department said. "Sporting events and recreational activities are now permitted to have up to six spectators per event participant with a limit of 750 fans indoors or 1,000 fans outdoors as long as physical distancing can be accommodated."
The Milwaukee Health Department also reports that "restaurants and bars will see an increase in possible capacity," as well as an "easing of the restrictions on movement of patrons inside the establishment."
Throughout Wisconsin, the possible capacity in some facilities and businesses are being raised, allowing for more people to occupy indoor and outdoor spaces.
"I think that it is okay, as long as the use of masks and social distancing are still in place," Whitaker said. "However, if case numbers begin to rise, I would hope that businesses would see that as a sign that they should limit their capacity or find some other strategy in order to help decrease the spread of the virus," VanVooren said. "I appreciate when businesses take appropriate measures to make sure their customers are spaced out correctly and not putting them at risk in any way."
As Wisconsin communities continue to change, Homestead students also recognize the changes going on close to home.
There is a "general influx of students that have come back to school this trimester," Blair Martin, junior, said. "These are people that I haven't seen in person for a whole year and it's sort of wild to share a space with them again."
As well as the growth of on-campus students this trimester, there has also come an increase in the number of classes conducted each school day. "I think the five period days have really brought the days to feel like they did before the pandemic," VanVooren said.
There has additionally been a change in many sporting activities. VanVooren said, "With the sports outside now, I feel all the restrictions are less obvious."
"For some of my sports, when we are outside, we are allowed to play without our masks on," Whitaker said. "which makes me think that things are getting to become more normal."
Leave a Comment
About the Contributor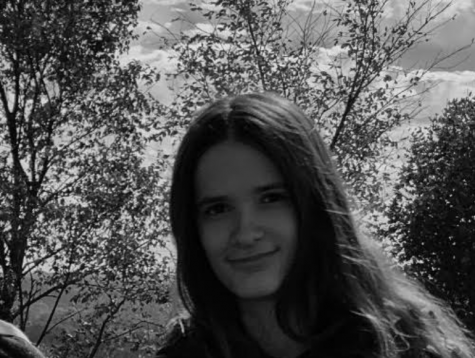 Breanna Ruppel, Staffer
Breanna Ruppel, a sophomore at Homestead High School, is a dedicated student. She is delighted by the chance to advance her writing skill; planning to,...