What's in your closet: Bringing back the blog
Caught up in the storm of college applications and the busyness of senior year, my blog took a backseat. However, "What's in your closet" is back and better than ever. Starting with a bang, I decided to do my first post on my own closet. It's weird to write about myself, so bear with me, but I am really excited to get back into the business of blogging and exploring some amazing closets. So fashion friends, here we go:
If you're anything like me, you see an outfit — a perfectly accessorized outfit, complete with the perfect jacket, a wonderful statement piece, a pop of color and amazing shoes– and you wonder where in the world did that exceptionally dressed person get those amazing articles of clothing. And instead of asking like a normal person, you, and I, hit the stores in search of that beautiful item and return home without any luck. And if you're similar to me, you sit in front of your closet every morning, next to a pile of no-gos, agonizing over what the heck you should wear to school. Those are the moments when you wish you had that really cool sweater that girl in your fourth hour class wore yesterday.
Let's be real, life would literally be a million times easier if we all  just knew where our classmates get their awesome clothes. So, I did what any fashion lover and blogging enthusiast would do — I started a blog about Homestead students and their amazing closets.
I, if you can't tell, love clothes — always have, always will.  I love looking at clothes, I love buying clothes and I freaking love wearing clothes. Sure, that sounds shallow and materialistic, but why wouldn't you love the things that cover your body all day every day. Clothes only enhance the person wearing them, and as Coco Chanel (God bless her glamorous soul) said, "Dress shabbily and they remember the dress; dress impeccably and they remember the woman."
My style can be described as a mix of everything. One day, I can be found wearing head-to-toe J.Crew, and the next I could be rocking out a leather jacket and ripped boyfriend jeans — I don't discriminate. My favorite places to shop include Forever 21 (90% of my clothes are from there), Free People, J.Crew, H&M, Revolve and Anthropologie.
---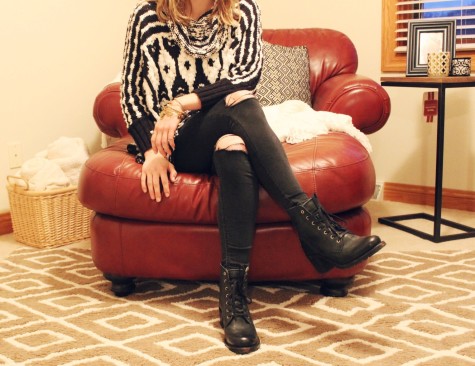 SWEATER WEATHER
"Who doesn't love a huge sweater in the winter? The answer is no one."
SWEATER: Free People, Printed Cowl-Neck Sweater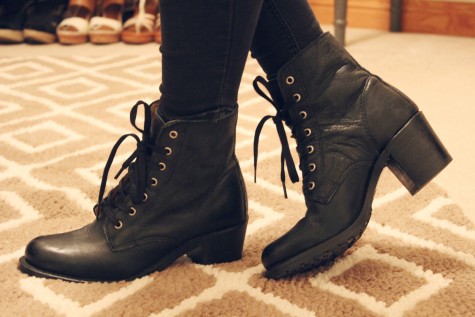 FRYED LEATHER
"These are my all-time favorite boots. I got them on major sale, which was a huge bonus, after stalking them for a couple of weeks. Whenever I want to buy something expensive, I wait it out and stalk the product until it is on sale. In other words, I'm always ballin' on a budget. "
BOOTS: Frye, Sabrina 6G Lace Up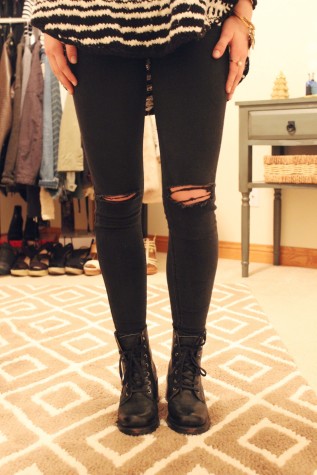 HOLY HOLES
"These black ripped jeans are really in this year, and I think the trend is so popular because it is flattering on all body types. Black in general is the most slimming color."
JEANS: Topshop, Moto Black Ripped Leigh Jeans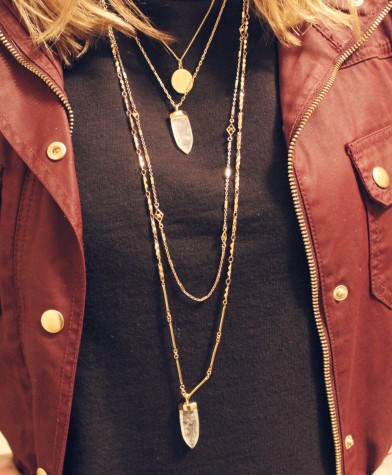 CRYSTAL CLEAR
"If I feel like my outfit is boring, I always throw on a necklace — or two, maybe three. It instantly makes a plain black top look a lot more appealing. "
JACKET: J.Crew, Field Jacket
TOP: J.Crew, No longer available
NECKLACES: Stella and Dot, Blessed Charm
 Stella and Dot, Aria Pendant Gold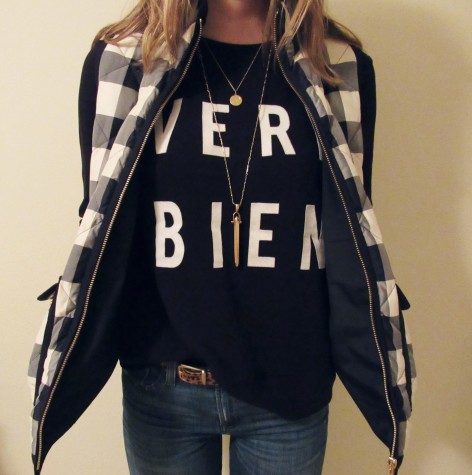 SPEAKING SPANGLISH
"This outfit is a great weekend go-to. I love this vest because it adds a little prep to the look."
TOP: H&M (in stores)
VEST: J Crew, Excursion Vest
BELT: J.Crew, Calf Hair Belt
NECKLACE: Stella and Dot, Rebel Pendant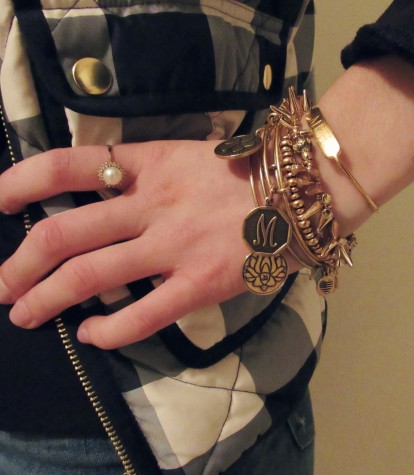 WHAT A CHARMING LITTLE ARM PARTY
"Arm parties are the best kind of parties. I also always wear that pearl ring and monogrammed cuff. I like wearing those pieces everyday because they become part of my signature style."
BRACELETS: Alex and Ani
Stella and Dot, Renegade Cluster Bracelet
Stella and Dot, Signature Engravable Bar Cuff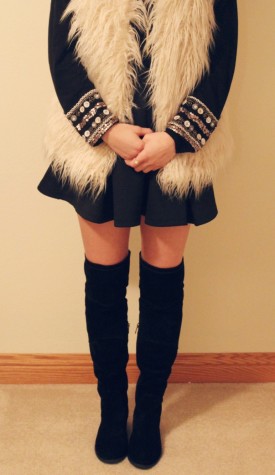 "NO I AM NOT WEARING A DOG"
"I love this vest, but whenever I wear it, I get called Cruella de Ville."
VEST: Forever 21, Shaggy Faux Fur Vest
TOP: H&M, Sequined Sweater
SKIRT: no longer available
BOOTS: Vince Camuto, Bernadine Paneled Over the Knee Boot