Heart + Energy + Passion = No limits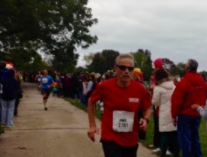 Up at 3:00 a.m.
30,000 steps a day.
60-80 miles a week.
64 years young.
"Over the years, Mr. [Paul] Sivanich has looked over me as a mentor, friend and coach. He inspires everyone on the team,"  Allie Levin, senior cross country runner, said.
For Mr. Sivanich, physics teacher and Homestead girls cross country coach, running has not only been impactful in his life on a personal level, but also for his runners, for his daily life and for his health.
"I think I always wondered if I could run a marathon, if it was physically possible," Mr. Sivanich said, eyes peering over his glasses. To this day, he has completed 28 marathons in 16 years.
It began around two weeks before his fiftieth birthday when he started running with a training program that a friend from work had recommended to him. Ever since then, he has loved the sensation and his passion for running keeps growing. "I enjoy how it makes you feel physically and mentally, it's just great," Mr. Sivanich said.
"Running is also a stress reducer, and it keeps the brain mentally sharp," Mr. Sivanich explained, "If I am going to try to keep up with a bunch of teenagers everyday, I better have some energy, and running definitely brings me energy. I know there is no way I could be doing this job at my age if I wasn't really fit."
His students, his runners and his love for teaching are all what motivates him to keep going. "I think one thing people who aren't teachers don't understand is how much energy it actually takes to do this; it takes an incredible amount. It's super fulfilling. I love it. I really love teaching. Running really enables me to do the thing I love."
"Over the years, Mr. Sivanich has looked over me as a mentor, friend and coach. He inspires everyone on the team, whether by the number of steps he's logged (usually around 30,000 a day) or the miles he's run (60-80 a week). He always has motivational mantras to share with the girls, and he always goes out of his way to make a personal relationship with the runners. I will always remember him shouting our team chant before meets, specifically, his neck veins popping out. One thing that shocks all his students is the fact that he wakes up around two or three in the morning to run and do school work," Levin said.
Running is more than just keeping himself healthy, Mr. Sivanich continued. He really hopes to motivate others to run. "I hope to be a role model for my runners. I hope they see that the harder they work, the better they get, as well that it is a lifelong thing. Sometimes they're not going to feel like doing a workout — sometimes I don't feel like doing a workout, but hopefully they'll see me out there, and think, 'If this old guy can do it, I can do it, too."
About the Contributor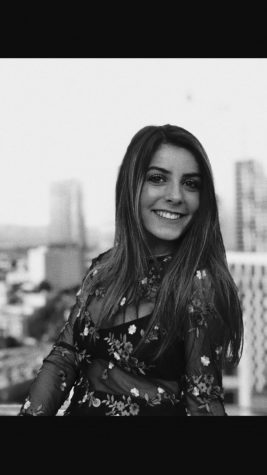 Giovanna Fallucca, Staffer
This is Giovanna's third year writing for Highlander Publications as a junior. At school, she plays on the JV Tennis team. She is always trying new things...