Wisconsin artist Hannah Mrozak brings inspiration to local teens
Hannah Mrozak is an American Idol and The Voice Vocalist/Storyteller who grew up in Richfield, Wis. She went to Friess Lake Middle School and Slinger High School.
Mrozak performed and spoke at an evening of music and conversation for teens in the James Barr Auditorium on Thursday, May 3; topics included coping with stress and anxiety. The event was sponsored by Gathering On the Green.
She began her career by singing for the Milwaukee admirals at age 8 and went on to sing for the Milwaukee Brewers. She then auditioned for America's Got Talent where they told her she sounded incredible, she was great, but she just didn't have the story they were looking for. Mrozak said, "they weren't interested, because I didn't have a sob story."
Soon enough, she was faced with a unimaginable life event. Her 15-year-old brother, Mason, took his own life two years ago, on February 22. Both Mrozak, 17 at the time, and her sister were home when the incident happened. "He decided to put a bullet in his head, and we were home for that," Mrozak said.
Her brother's death became the main reason she began speaking out about mental illness. "Because of that event, I have had my own personal problems and struggles with mental illness," Mrozak said.
Mrozak was faced with depression and anxiety as she tried to cope with the loss of her brother. She went to therapy but the fit wasn't right. She finally found something that worked for her in the form of medication. She is now off of medication and is very proud of herself for that.
When asked how to handle people who don't understand mental illness she said, "You can't change people. You can try, but you just have to let them live their life. We can't be super mad at those who aren't educated because they don't know. I try to understand those people."
Mrozak said that we should reach out to those who don't understand mental illness. We should ask them, what is your experience with mental illness?  She added that, "It gets the ball rolling when you have them think about their own thoughts and feelings, and they might realize they may relate to it."
Mrozak uses her music as a coping mechanism. Before shows, she "gets pumped with pure excitement." Performing and recording is her lifeblood. After a run on both American Idol and The Voice, Mrozak has released a single, "My Way." The song is available on iTunes, Spotify, YouTube, and several other music sites. She plans to release an Extended Play Record (EP) in the near future.
Along with sharing her story at the event, Mrozak sang for the audience. She performed several covers as well as her single. Her smoky vocals and deep runs filled the auditorium. Save the date, because you can see Mrozak at Summerfest on July first at 6:45 p.m. on the Johnson Control stage. The cliche, dreams do come true, may prove true as Mrozak "pursu[s] [her] music and record."
While she shares her story through her music, her hope is to inspire others. Mrozak said she is, "not one of those people who is going to jump down your throat and throw stuff at you," but she is someone to remind people of the value of life and the importance of pursuing your passions.
About the Writer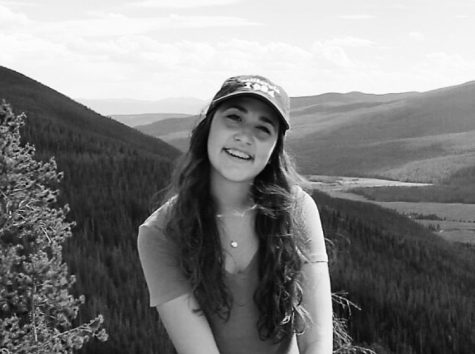 Caitlin Geurts, Reporter
Caitlin Geurts is a senior and this is her fourth year on staff. She is beyond thrilled to be diving into many different aspects of journalism this year. You...