Students earn national writing award
Two creative writing seniors, Julius Wilkerson and Hannah Bentley, received special recognition and awards for their writing. Each put hours of work and time in developing their pieces with the help of their teacher, Mrs. Angelina Cicero.
Wilkerson won the editors choice award for Teen Ink magazine by submitting his poem "The Flag" to their website.
"I was inspired to write it obviously about all the controversy over kneeling during the national anthem but also by the lack of a voice I felt the players were getting in my creative writing class where some people felt that they didn't deserve the right to kneel because it "disrespecting our soldiers," Wilkerson said.
Creative writing helps to discover a personal writing style, and that's how Wilkerson was able to write from the heart.
"Homestead's creative writing classes offer an opportunity for young writers to create within a supportive community of other writers. Both Hannah and Julius are self-motivated, but knowing you have an audience and knowing you have a forum to receive suggestions pushes people's writing to the next level," Cicero said.
Wilkerson found inspiration within another author and made it his own with his own unique style.
"I started preparing my piece by creating an imitation of the poet Saul Williams then eventually developing it into my own style and message. My teacher Mrs. Cicero helped me develop my writing a lot during her class and express my voice through poetry, which means the world to me."
Along with Wilkerson,  Bentley won her award through the Penn State poetry contest, winning third and fifth place for two different poems.
"I wrote the piece that won third place earlier this year, and it went through one workshop group before I submitted it. It basically revolves around the idea of overthinking things and the resulting anxiety that comes with it. I was actually inspired to write it after thinking about how scary it would be to go to space LOL."
Bentley wrote the fifth place piece in Creative Writing class.
"I wrote the piece that won fifth place in Mrs. Cicero's Creative Writing class last year, so Mrs. Cicero helped me out a lot with it, and it went through a few peer reviews before getting to the final piece. I was inspired to write it after looking at the relationship between destruction of the self and destruction through natural events," Bentley said.
"Reading the work of professional writers as well as fellow writers at school, immersing in the genre you are writing in, and making a daily habit of writing creatively all have a great potential to lead to inspired, quality work,"  Cicero said.
About the Writer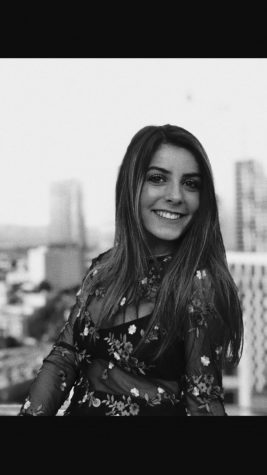 Giovanna Fallucca, Staffer
This is Giovanna's third year writing for Highlander Publications as a junior. At school, she plays on the JV Tennis team. She is always trying new things...