Once a dream, now a reality
Student pursues career path while still in high school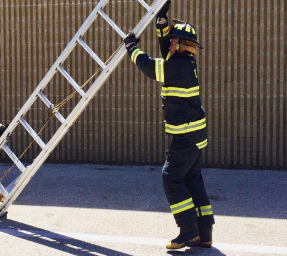 Hang on for a minute...we're trying to find some more stories you might like.
We all had our childhood dreams. Some of us aspired to be professional athletes, movie stars and about a million more. Ben Beck, senior, aspired to be a firefighter as did many kids. The difference between Ben and most people, though, is that he is now living his childhood dream.
Beck started his career as a firefighter with the most important aspect of any profession: passion. "This has been a dream of mine since I was a kid. I like to call it the childhood dream I never grew out of." Throughout Beck's childhood, this remained an interest of his.
Once he was old enough, Beck decided to start making his dream a reality. He began as a cadet with the North Shore Fire Department where he learned some of the basics of the career.
In the past year, Beck has received his EMT certification as well as a position at the Grafton Fire Department. "EMT certification pretty much takes you from knowing nothing about medicine to being a licensed healthcare professional that can perform blind intubation, basic splinting, bandaging, give certain drugs and even deliver a child."
One of the many on the list of reasons why Beck loves his job is because of the very unique relationship he has with his colleagues. "More often than not, we are living together at the firehouse which obviously creates a very special bond but we all share a love for helping people. We go through all kinds of ups and downs together, which creates true camaraderie."
"There is nothing like the feeling of being there when someone is in distress and being able to comfort them. We have the ability to save people's lives, which is truly amazing."