Girls varsity tennis team wins sportsmanship award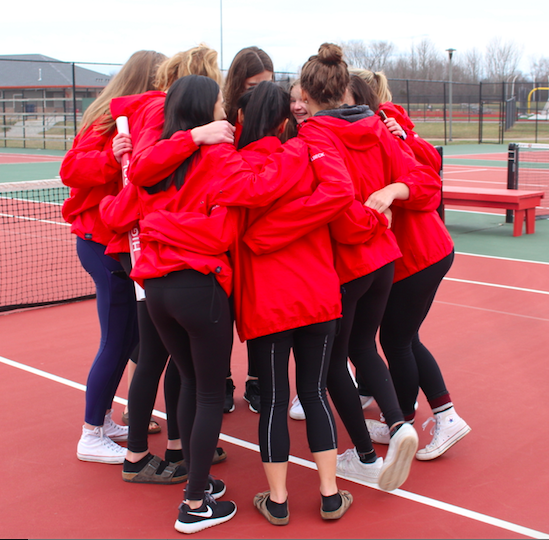 Hang on for a minute...we're trying to find some more stories you might like.
The girls varsity tennis team was awarded the WIAA Sportsmanship Award on March 29. At each of the WIAA State Team Tournaments, one school is selected to receive the State Sportsmanship Award.
According to the WIAA website, the selection process for the Sportsmanship Awards includes input from contest officials, tournament management, police and security personnel, crowd control and ushers and WIAA staff members. These observers judge the conduct and sportsmanship of coaches and athletes, cheer and support groups, mascots, bands, student groups and adult spectators. Also measured is the effort by school administrators and chaperones during the tournament to keep the support for their teams and student-athletes positive and enthusiastic.
"I'm really happy that our attitudes on the court have reflected among the community to give us this award," Alyssa Boyer, junior, said.
"I think that we're a really hard working group of girls. We obviously try really hard to work on the court because tennis is so important to us. Being a good sport is really important to us and so just getting this award is an awesome way to top of an even more awesome season," Frankie Lalonde, junior, said.
"Ever since freshmen year, Jackie has always talked about the sportsmanship award that the boys won in 2009. It has been a big deal every since, every time she mentions it. Winning the championship as a team, and then finding out we won this has been really huge accomplishment. This shows that the entire team has really good behavior, is committed, and has great sportsmanship and it isn't just some set individuals that carry the team. The entire team deserves the award which I find really important," Katya Mikhailenko, senior, captain of the team, said.
"When they boys won the award, back in 2002, it was the first time that Homestead, in any sport, received a sportsmanship award. I thought that was very exceptional and thrilling. With the girls winning, they won the state championship in their ability in winning the tournament, and usually they don't give this award to the championship. This was so exceptional that we won both in one year. Sportsmanship is as important to me as the wins," Jackie Egelhoff, coach, said after receiving the award.