What's in your closet: Lizzy Tucker shares her classic and preppy style
Take a peek inside the closet of Lizzy Tucker.
If you're anything like me, you see an outfit — a perfectly accessorized outfit, complete with the perfect jacket, a wonderful statement piece, a pop of color and amazing shoes– and you wonder where in the world did that exceptionally dressed person get those amazing articles of clothing. And instead of asking like a normal person, you, and I, hit the stores in search of that beautiful item and return home without any luck. And if you're anything like me you sit in front of your closet in the morning with a pile of no-gos agonizing over what the heck you should wear to school, wishing you had that really cool sweater that girl in your fourth hour class was wearing.
Let's be real, life would literally be a million times easier if we all  just knew where our classmates get their awesome clothes. So, I did what any fashion lover and blogging enthusiast would do — I started a blog about Homestead students and their amazing closets.
---
Lizzy Tucker, my favorite shopping partner and the first girl to showcase her closet, describes her style as "classic with a few modern twists."  She frequents J.Crew, Lilly Pulitzer, Ralph Lauren, LuluLemon, Gap and Patagonia and her style icons consist of Jackie O, Diane Von Furstenberg, Kate Middleton, and Olivia Palermo.Savvy shopper, Lizzy stated "I never pay full price. I'm a sucker for a good deal." She also is a world class pinner and you all should follow her on Pinterest. Seriously, follow her right now you will not regret it.
Lizzy also is referred to as "the girl with eTa on everything," (or maybe that's just her twitter bio?) and no grandma, that does not stand for "estimated time of arrival." Lizzy pretty much monograms everything, but she assured me that adding monograms is a "great way to add a personal touch to your wardrobe." She added, "it's also great insurance, your friends can't steal something with a big monogram on it." Can't argue with that.
Here's a couple of her favorite things:
"When I'm at school I like to be comfortable but also   presentable. I'm a huge fan of button downs and vests; it's a very classic look."
Get the look:
Top: Ralph Lauren "Custom-fit Striped Shirt," $89.50 (she paid $39.00)
Vest: J.Crew "Excursion Quilted Down Vest," $120.00 (she paid $57.00)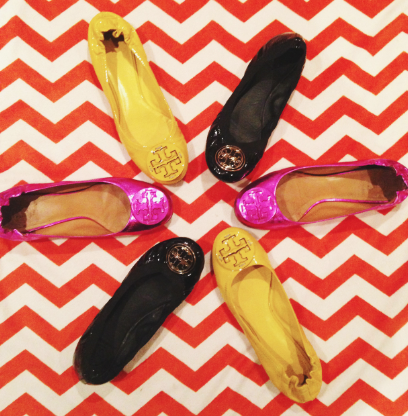 Ex Shoes Me!
"A tip of mine would be, don't be afraid to add color. Adding a pop of color turns a simple outfit into something special. Wearing bright flats instantly adds an extra flare to your outfit."
Get the look: 
Color flats: Tory Burch "Reva," $225 -$250 (she paid $75-$95)
Black flats: Tory Burch "Caroline," $225 (she paid $87.90)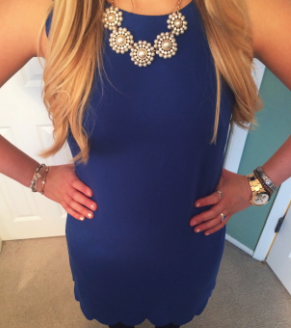 I'm So Fancy
"This dress is great because it can be dressed up or down easily. It's timeless and always appropriate for any occasion."
Get the look:
Dress: J.Crew Scalloped Dress (no longer available)
Necklace: no longer available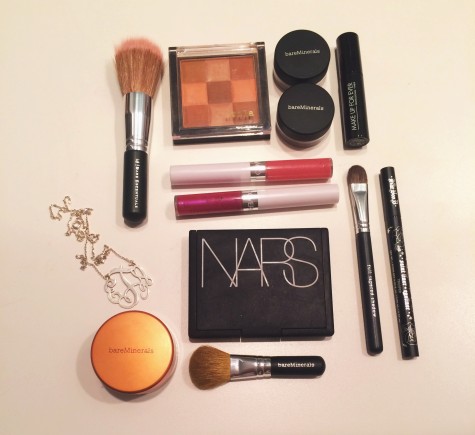 Let's Makeup
"Especially in the winter, when everyone loses their color, it's important to wear blush to brighten up your face."
Get the look: 
Blush: NARS "Orgasm," $30.00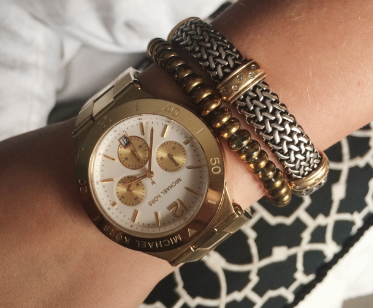 Diva Time
"Accessories are key. I love a good arm party."
Get the look:
Watch: Micheal Kors "Bradshaw," $250.00 (she paid  $120)
Beaded bracelet: Homemade, find out how
Bracelet: David Yurman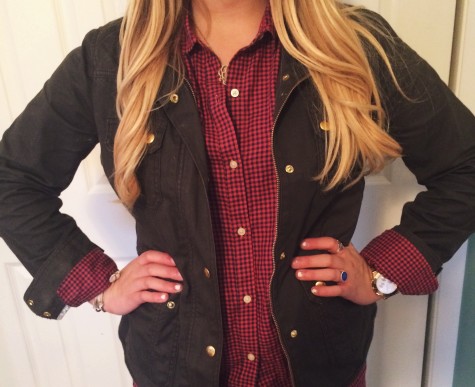 Save the Plaid for Your Dad
"This jacket is so awesome. I wear mine all the time. It's super versatile and goes with pretty much everything."
Get the look:
Jacket: J.Crew "Downtown field Jacket," $148.00
Shirt: Gap (no longer available)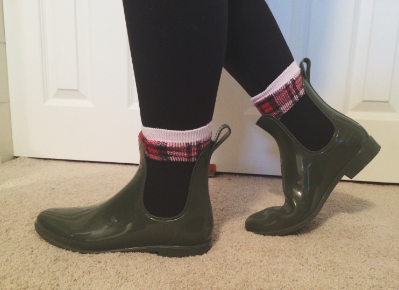 She Got a Little Bootie
"Who doesn't love cute rain boots?"
Get the look:
Shoes:J.Crew "Chelsea Rain Boots" $68.00 (she paid $30.00)
Socks: J.Crew (no longer available)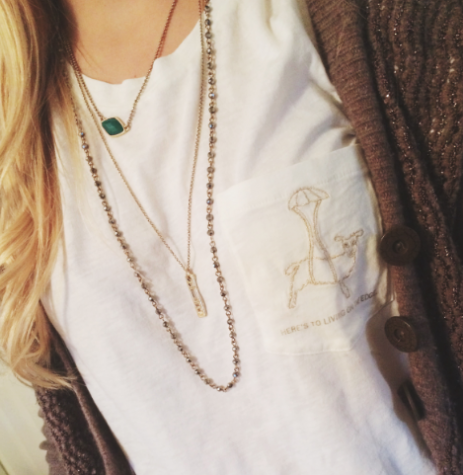 It's casual 
"If I'm not comfortable in what I'm wearing, it's hard to feel confident. Comfort and confidence go hand-in-hand."
Get the look:
Shirt: J.Crew (no longer available)
Necklace: Lucky Brand "Lucky Layer Etched," $48.00 (she paid $19.99)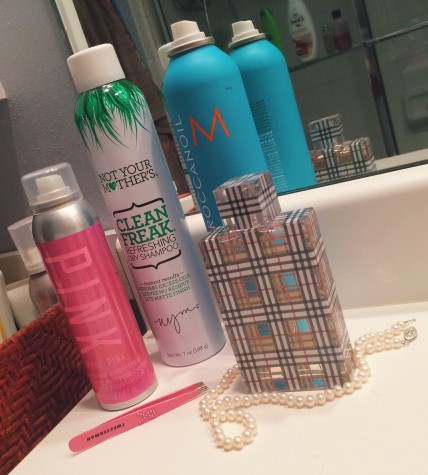 Say It, Don't Spray It
"Dry shampoo is amazing. It can transform flat second day hair so easily."
Get the look:
Dry Shampoo: NotYour Mother's "Clean Freak," $5.99
Hair Spray: Moroccan Oil, $22.20
Perfume: Burberry "Brit," $78.00
---
To be featured or nominate someone to be featured in this blog you can comment below or contact me via email: [email protected]
About the Contributor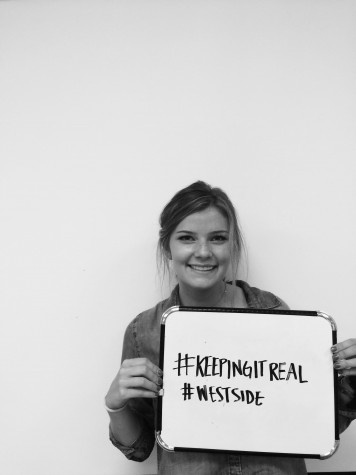 Molly Riebau, Editor-in-Chief of Highlander Magazine


Molly Riebau is the Editor-in-Chief of  The Highlander Newsmagazine. Aside from journalism, she loves watching The Bachelor (more than any...