Movies everyone should see in their lifetime
Three years ago, I began, in the study hall of my middle school cafeteria, to draft a list. I titled it "Movies EVERYONE Should See In Their Lifetime." I wanted everyone to fall in love with the movies I had, so I began to add all of my favorite movies to this small, half-a-google doc list. I started taking suggestions, and looking at today's list, I could still tell which movies were suggested by whom. This list became somewhat of my legacy. My friends quiz me on my claims that I know quotes from "every movie on the list" (which is only somewhat true), people I've barely even met already know about my list, and my Instagram polls get pretty heated when I claim Ethan Hunt is way better than James Bond. The natural next step was to share it with everyone, right? Every week, I go through a different movie that managed to make a list that now strains to stay one one page. What I liked, what I didn't, where you can watch: you have found the movie you've been looking for, and it won't take you a lifetime to see it.
The Social Network
Year: 2010
Genre: Drama/True Story
Rating: PG-13
Rotten Tomatoes Score: 96%
Awards: Academy Award, best adapted screenplay; Academy Award, best film editing; Academy Award, best original score; Golden Globe, best director; Golden Globe, best screenplay; Golden Globe, best original score; Golden Globe, best drama; BAFTA, best adapted screenplay; BAFTA, best editing; BAFTA, best director
"You don't get to 500 million friends without making a few enemies." This true-story blockbuster centers on a young Mark Zuckerberg (Jesse Eisenberg) as a Harvard student starting what was then called "The Facebook." With the help of his best friend Eduardo Saverin (Andrew Garfield), Zuckerberg develops his website and it explodes across the nation. The film cuts back and forth between the story behind the social media juggernaut, and the six-years-later clips, where Saverin and the Winklevoss Twins (Armie Hammer) are separately suing Zuckerberg for contract misuse and intellectual property violation. As the story goes on, the cast of characters grows and grows, including Justin Timberlake as Nabster inventor Sean Parker, and the plot thickens until finally the two time periods catch up to each other, and Zuckerberg finds that with his immense success comes unforeseen and complex complications.
What I liked: Almost everything. Seriously, I'm not sure this story could have been told better. You know from the beginning the Mark is being sued by his best friend and cofounder of Facebook, but why? You know he's obscenely wealthy, but how can that be when he's just sitting in a bar, being insulted by his girlfriend? His coy remarks and snarky comebacks make you want to like Mark a little bit, but his strong inferiority complex (and related arrogance) that is apparent throughout the film make him hard not to hate. Eduardo, on the other hand, presents the most trusting and likable supporting character all through the movie. As his best friend reaches new heights of success, Eduardo struggles to hold on to their friendship while his status as little-influence CFO makes him an easy target for usurpers. Watching this movie, I learned more about computers, Harvard, Silicon Valley, finals clubs, and jealousy than I have in any film before it, and it packed all that information into a palatable two-hours that let viewers into the high stakes, high reward world of 2000s internet start-ups.
What I didn't like: It's shamelessly biased. If your opinion is that Mark Zuckerberg is a good and considerate person, don't watch this movie. Eduardo is painted largely as the hero of the plot, and some reviewers wonder if Zuckerberg would tell a different story. It also assumes Facebook is the be-all end-all of social networking, but there are several social media platforms that might dispute that.
Conclusion: Clearly, there were not many things I didn't like about The Social Network. From the casting to the script to the music to the incredible early morning shots in Cambridge, Mass., this movie was basically an incredibly beautiful thriller. It is riveting to watch a world most of us will never understand, but its themes of friendship, jealousy, and lies transcend the space of two hours and apply to our lives distinctly. It feels like a perfect movie to watch in the bitter cold of winter, when the mystery and cinematography lends itself to December ambience. This film is available on Amazon Prime and Youtube for $2.99 and on cable channel Starz with subscription.
About the Writer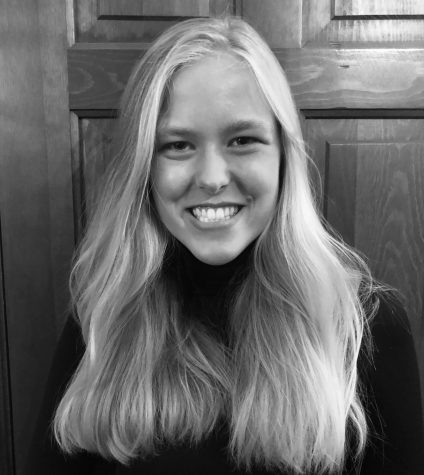 Annie Brown, Editor-in-Chief
Annie Brown is a junior at Homestead High School. She is passionate about education, maternal health, and cancer research, which is why she serves as president...