Movies everyone should see in their lifetime
Five years ago, in the study hall of my middle school cafeteria, I began to draft a list. I titled it "Movies EVERYONE Should See In Their Lifetime." I wanted everyone to fall in love with the films I adored, so I began to add all of my favorite movies to this small, half-a-google doc list. I started taking suggestions, and looking at today's list, I could still tell which movies were suggested by whom. This list became somewhat of my legacy. My friends quiz me on my claims that I know quotes from "every movie on the list" (which is only somewhat true), people I've barely even met already know about my list, and my Instagram polls get pretty heated when I claim Ethan Hunt is way better than James Bond. The natural next step was to share it with everyone, right? Every week, I go through a different movie that managed to make a list that now strains to stay on two pages. What I liked, what I didn't, where you can watch: you have found the movie you've been looking for, and it won't take you a lifetime to see it.
The Graduate
Year: 1967
Genre: Drama
Rated: PG
Rotten Tomatoes Score: 87%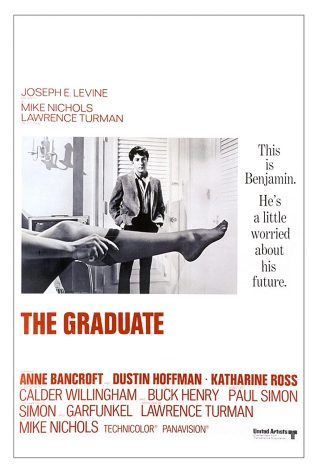 The film opens with the melancholy notes of Simon and Garfunkel's "The Sound of Silence." A disembodied voice thanks passengers for joining them on this flight, and then they are free. The shot shifts to our protagonist, Benjamin Braddock, on an airport's moving carpet. Men in suits and women in dresses hurry past him, but Benjamin stays still, allowing the mechanism to carry him slowly forward.
This scene sets up the rest of The Graduate , a story that follows Benjamin as he tries to come to terms with the in-between era of the summer after his college graduation. From ill-advised relationships with burnt-out Mrs. Robinson, to mindless conversations about plastics, to far too many questions from his doting parents, Benjamin must navigate through his newfound purposelessness in the midst of the unhappiness that surrounds him. In this Mike Nichols masterpiece widely considered among the greatest American films, we are asked about the games we play, the illusions we live on, and the great strings holding us back while simultaneously holding us all together.
What I liked: I first saw this film when I was ten years old. I loved the artistic camera work and pretty music, but I couldn't understand practically anything else. However, when I returned to the film seven years, a family move, and at least thirteen college applications later, I saw it in a whole new light. Sure, the mirrored table shot, the diving suit scene, and the final "ELAINE!" moment were still stunning, but the real beauty of this movie hides in, literally, the sound of its silence. When Mrs. Robinson says that she doesn't want to talk about art, and Benjamin asks her what her college major was, and she responds with—what else— art, the aching silence that follows that moment says all it needs to. The quiet hum of Benjamin's convertible on his and Elaine's awkward first date followed by the noise of their midnight confessions create the most incredible juxtaposition between the old and the young, the falsely happy and the knowingly despondent. I understand now, that I had to experience my own coming of age to understand Benjamin's, and I'm sure that as I start my own journey into the in-between, I will find myself hurtling into this film in entirely new ways.
What I didn't like: Depending on a person's attitude as he watches this movie, it could easily be the most pretentious, insufferable piece of nonsense ever to grace the screen. Like I said before, you have to be in the right stage of your life for The Graduate to hold any weight with you. Stripped to its bare bones, it's a contrived tale of a college-graduate rich boy who, sick of his wonderful and doting parents, begins an affair with a much older (and married!) woman. Then, he decides he wants the woman's daughter instead, and stalks her after she has refused him multiple times. There is (spoiler!) no happy ending, no happy beginning, and not really a happy middle either. It's problematic and sad, and not the best thing for a family movie night.
Conclusion: The subject matter (see above) is enough to turn many a viewer off of this film. However, after watching it many, many times, considering all of its more problematic elements, trying to see it from a different perspective, I can still confidently say that The Graduate is among the best movies I have ever seen. Director Mike Nichols, actors Dustin Hoffman and Anne Bancroft (among others), and absolutely incredible music by Simon and Garfunkel—this was a masterpiece before it even touched the cinemas in 1967. Watch it as soon as possible, especially if you're a junior or senior who is, like Benjamin, "a little worried about (your) future." This film is available for free with an Amazon Prime subscription.
Leave a Comment
About the Contributor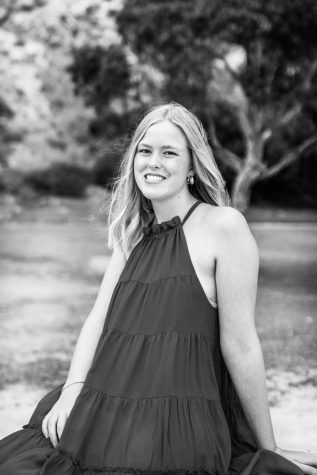 Annie Brown, Editor-in-Chief
Annie Brown is a senior at Homestead High School. She is passionate about education and community service, serving as a youth ambassador for the Ronald...