Movies everyone should see in their lifetime
Three years ago, I began, in the study hall of my middle school cafeteria, to draft a list. I titled it "Movies EVERYONE Must See In Their Lifetime." I wanted everyone to fall in love with the movies I had, so I began to add all of my favorite movies to this small, half-a-google doc list. I started taking suggestions, and looking at today's list, I could still tell which movies were suggested by whom. This list became somewhat of my legacy. My friends quiz me on my claims that I know quotes from "every movie on the list" (which is only somewhat true), people I've barely even met already know about my list, and my Instagram polls get pretty heated when I claim Ethan Hunt is way better than James Bond. The natural next step was to share it with everyone, right? Every week, I go through a different movie that managed to make a list that now strains to stay one one page. What I liked, what I didn't, where you can watch: you have found the movie you've been looking for, and it won't take you a lifetime to see it.
WarGames
Year: 1983
Genre: Mystery/Drama
Rating: PG
Rotten Tomatoes Score: 93%
Awards: BAFTA, best sound
In this early 1980s film, a very young Matthew Broderick plays David Lightman, a gifted slacker growing up in Seattle during the height of the Cold War. He hacks into computer systems to change grades, book imaginary flights, and impress his classmates, namely Jennifer Mack, played by Ally Sheedy of Brat Pack fame. One afternoon, searching random computer numbers, the pair stumble upon one that does not identify itself. It has a complex security system that David sees as a challenge, and unlocking that system sends David and Jennifer through a door to the inner workings of the American government, and the constant fear surrounding nuclearity in the Cold War.
What I liked: The concept of this movie is very interesting. Two teenagers have a massive impact on their country's security, and they have absolutely no idea, but in the end they must save the world from nuclear disaster. It makes for a very excellent thriller, to say the least. It's high-strung, and yet simple enough to understand what's going on. The music lends to the overall anxiety of the chase, and the first time I watched it, I truly had no idea what was going to happen. There's something entertaining about watching films about very smart people. They make decisions and have insights that you wouldn't even dream of, and David's genius creates some fantastic twists.
What I didn't like: As a movie made in the early 80s, it assumes the viewers know a lot more about the Cold War than we actually do. It was beneficial to watch it first with my parents, so they could periodically explain what was going on in America at the time. By today's standards, it's a little far-fetched, also, which gives the film the overall feeling of being outdated. Additionally, Ally Sheedy's character Jennifer could have been developed a little better. Her dimwitted statements and lack of practically any problem-solving skills make it very clear that it was David who was destined to save or end the world from the beginning . I don't take major offense to it, but the writers could have easily made her a slightly more interesting character.
Conclusion: I have probably seen this movie more often than any other on the list. Every time I see it scrolling through the guide, I say, "I love this movie!" There are certain parts of it that make it a little outdated; however, the sheer "watchability" of this film is what makes me write about it. It keeps you guessing, but overall, it's still very palatable. War Games is a classic 80s teen movie, and it's perfect for a movie night with friends, or just to watch on the weekend. This film is available on Amazon Prime and YouTube from $2.99 and on cable channel BBC on December 13 at noon.
About the Writer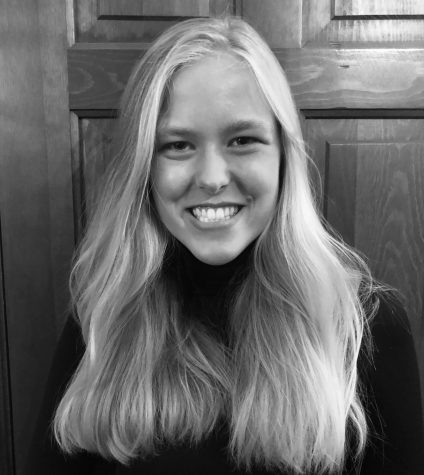 Annie Brown, Editor-in-Chief
Annie Brown is a junior at Homestead High School. She is passionate about education, maternal health, and cancer research, which is why she serves as president...