Movies everyone should see in their lifetime
Three years ago, I began, in the study hall of my middle school cafeteria, to draft a list. I titled it "Movies EVERYONE Should See In Their Lifetime." I wanted everyone to fall in love with the movies I had, so I began to add all of my favorite movies to this small, half-a-google doc list. I started taking suggestions, and looking at today's list, I could still tell which movies were suggested by whom. This list became somewhat of my legacy. My friends quiz me on my claims that I know quotes from "every movie on the list" (which is only somewhat true), people I've barely even met already know about my list, and my Instagram polls get pretty heated when I claim Ethan Hunt is way better than James Bond. The natural next step was to share it with everyone, right? Every week, I go through a different movie that managed to make a list that now strains to stay one one page. What I liked, what I didn't, where you can watch: you have found the movie you've been looking for, and it won't take you a lifetime to see it.
The Dark Knight
Year: 2008
Genre: Drama/Thriller
Rating: PG-13
Rotten Tomatoes Score: 94%
Awards: Academy Award, best supporting actor; Academy Award, sound editing; Golden Globe, best supporting actor; BAFTA, best supporting actor
This second-to-last Nolan installment of the popular comic book series, The Dark Knight remains the most well-reviewed member of the Batman world. It presents, initially, a "new Gotham," in which the Commissioner (Gary Oldman) is making progress on the city's large mob presence. However, a psychopathic new villain has arrived, hell-bent on causing anarchy and attacking, especially, the Dark Knight himself. Heath Ledger's portrayal of a maniacal Joker earned him a posthumous Oscar after his death shortly after filming in 2008, and many have drawn comparisons between his performance then and Joaquin Phoenix's acclaimed character in 2019's Joker. This chaotic, action-packed film set a new standard for superhero movies as we know them and let viewers into the world of extreme psychopathy with the advent of a truly complex villain.
What I liked: The Dark Knight is a great movie for its complexity. True, it has some of the hallmarks of the traditional overdone superhero genre, but this presents itself more as a thriller than anything. Heath Ledger's Joker is richly terrifying in a way that draws you in despite the disturbing nature of the whole thing, and he loses himself in character to a point of complete anonymity. His performance is what sustains the movie, lending it a truly dramatic quality. The booming sound and rich action sequences make this a very enjoyable film to watch, and yet it is best remembered in my mind for the depth of craft it involved.
What I didn't like: There is no perfect superhero movie, in my opinion. The acting or writing is always a little off. It seems as if part of the content requires those interpreting it to be a little far-fetched. Christan Bale's performance in The Dark Knight is lacking in authenticity…and a normal human voice. Maggie Gyllenhaal acted like some wounded puppy dog the whole movie, and I think she could have elevated her performance with a bit more courage in the role. It's also more gory, violent, and disturbing than any hero movie I've seen in the past, so if that extreme action movie genre is not your preference, then I do not recommend.
Conclusion: The Dark Knight is gothic, dark, and wonderfully intense. It is unlike any superhero movie I have ever seen. While Christian Bale's performance falls short, Heath Ledger's more than makes up for it. This Joker is cruel, sadistic and completely frightening; as they say, a film is only as good as its villain. For those who loved Joker, I feel it was likely Ledger's performance that sparked the need for an origin story at all. An action movie that still deals with the deep depths of human emotion: Christopher Nolan set a whole new standard for what we see in the genre today. This film is available on Amazon Prime starting at $3.99.
About the Writer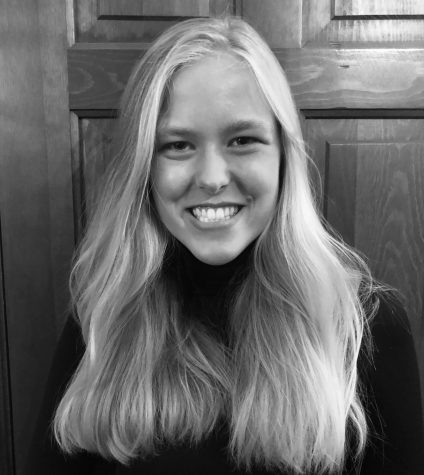 Annie Brown, Editor-in-Chief
Annie Brown is a junior at Homestead High School. She is passionate about education, maternal health, and cancer research, which is why she serves as president...