Movies everyone should see in their lifetime: The Academy Awards
This 92nd Academy Awards, we seek to illuminate the Best Picture Nominations and establish them as some of the best films of the year. Each day, the reviews for two movies will be published, written by various Homestead students. These last featured nominees are Once Upon a Time in… Hollywood and Joker, reviews written by Ben Usatinsky, sophomore, and Ana Jaquez Zarate, sophomore, respectively.
Once Upon a Time in… Hollywood
Year: 2019
Genre: Drama/Comedy
Rating: R (for profanity, violence, and drug use)
Rotten Tomatoes Score: 85%
Academy Award Nominations:Best Picture, Best Director, Best Actor, Best Supporting Actor, Best Original Screenplay, Best Cinematography, Best Sound Mixing, Best Sound Editing, Best Costume Design, Best Production Design
A classic Tarantino film filled with all of his most beloved- and gruesome- tropes, Once Upon a Time in Hollywood follows the once-glorious life of declining Hollywood star Rick Dalton (Leonardo DiCaprio) and his buddy stunt double Cliff Booth (Brad Pitt). However, the plot slowly and surely twists into a completely different subject when Cliff meets a hitchhiking hippie girl that turns out to be a member of the infamous Manson family. Pop culture nostalgia and wild, violent, eccentricities combine in this action game caked film to create an edge-of-your-seat and entertaining story.
What I liked: The critics' consensus of what in my opinion is a masterpiece was that the film exhibited everything one would desire in a "Tarantino flick." Sadly, even this film couldn't have went without its naysayers; despite all that, almost everything in this film seems perfect. Tarantino clearly misses the decade that brought him some of his favorite films, yet he more obviously turns the 1960's Hollywood into a spoof of itself. The Westerns in which Dalton plays stereotypical outlaws and sheriffs are done poorly and only entertaining for the stupid, and Booth's personal life is so pathetic he ultimately turns to "an acid-laced cigarette". The storyline, dialogue, and acting build to this movie's appeal, creating excitement reminiscent of Tarantino's films of years past. Equal parts bittersweet and incredibly entertaining, Once Upon A Time lens itself to the world of movie lovers. The final scene is poignant, reminding viewers of the uneventful realities of our mundane existences and all we leave behind in the past.
What I didn't like: this is not an easy task, I loved this movie very much. After I gave it some thought, however, I decided that my least favorite part of the film was the constant input of irrelevant characters. Tarantino, with his encyclopedic knowledge of cinema had a purpose for this, I'm sure. Still, it was often irritating that one moment you'd be introduced to someone who could potentially be the turning point of the plot, and then never see or hear about that character again. Tarantino probably does this to show that every character has his or her own free-flowing and unique path, but it creates a decent amount of "nothing time". Then again, that is what you get with a character-centered movie rather than a plot-centered one. Additionally, this is a highly violent movie with themes best reserved for mature audiences.
Conclusion: To sum up, for you to truly understand what makes "Once Upon a Time in Hollywood" such a glorious film, you will have to immerse yourself into the picture. This won't be hard to do, since as soon as you turn on the movie, the fully-built 60's Hollywood set and the nostalgic aura surrounding it through music and dialogue will do it for you. Its thrilling and twisting plot events somehow don't eclipse the film's totally loveable, or totally hateable, characters, and it is capped off by one final moment of brilliance. The only thing I can 100% recommend you do is watch some other Tarantino flicks, as the self-references come one after the other, and it makes the movie that much better. This film is available on Amazon Prime starting at $4.99.
Joker
Year: 2019
Genre: Drama/Thriller
Rating: R (strong bloody violence, disturbing behavior, language and brief sexual images)
Rotten Tomatoes Score: 68%
Academy Award Nominations: Best Picture, Best Director, Best Actor, Best Adapted Screenplay, Best Cinematography, Best Original Score, Best Costume Design, Best Makeup and Hairstyling, Best Sound Editing, Best Sound Mixing, Best Film Editing
A character study depicting the excruciating descent from lonely to disturbed, Joker revolves around failing comedian Arthur Fleck. His day job as a clown behind a joyful mask becomes his reality as he deals with the existential loss of self to a world of anonymity. He clings to his distorted perceptions and ultimately delves deep into the heart of madness, becoming the iconic comic book villain we know so well…or so we thought. Joaquin Phoenix's grueling portrayal of the titular character has allowed him to practically sweep the awards season thus far, and he is expected to win on Sunday as well, and the movie itself has also been nominated for several Academy Awards.
What I liked: While Todd Phillips's Joker received a seemingly low score on Rotten Tomatoes, its redeemable qualities earned it a Best Picture Nominations. Joker's production design was phenomenally well done, featuring cityscape shots and a beautiful color palette. Joaquin Phoenix's constantly strong portrayal of Arthur Fleck is something to admire, constantly captivating audiences, even as the film drags on.
What I disliked: Although the film's acting and cinematography soared, other elements did not. Joker's storyline was tiresome, shallow, and continuously attempted to maintain a serious tone. It failed to perform well in deeper more complex categories of its writing, occasionally redeeming itself towards the end. Understandably, very few characters were developed in the film, however this lack of variety grows to be tiring. Additionally, this film faced controversy upon release for its intense violence and disturbing portrayal of mental illness, so it can be a trigger for those struggling with their mental health.
Without Joaquin Phoenix or Lawrence Sher- Joker's cinematographer- this movie would not have been nearly as captivating. It is likely to do well at the Academy Awards for its rich emotions, but the overall cynicism and overextended bleakness make it feel almost dull to the viewer. This film is available on Amazon Prime starting at $4.99.
This concludes the Academy Award series. Which film will win best picture? Tune into ABC at 7pm on February 9th to find out!
Leave a Comment
About the Writer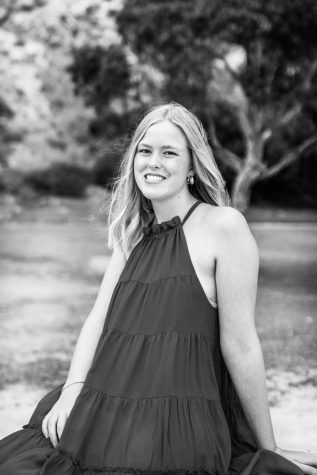 Annie Brown, Editor-in-Chief
Annie Brown is a senior at Homestead High School. She is passionate about education and community service, serving as a youth ambassador for the Ronald...