Movies everyone should see in their lifetime
Movies EVERYONE Should See In Their Lifetime: The Blog
Three years ago, I began, in the study hall of my middle school cafeteria, to draft a list. I titled it "Movies EVERYONE Should See In Their Lifetime." I wanted everyone to fall in love with the movies I had, so I began to add all of my favorite movies to this small, half-a-google doc list. I started taking suggestions, and looking at today's list, I could still tell which movies were suggested by whom. This list became somewhat of my legacy. My friends quiz me on my claims that I know quotes from "every movie on the list" (which is only somewhat true), people I've barely even met already know about my list, and my Instagram polls get pretty heated when I claim Ethan Hunt is way better than James Bond. The natural next step was to share it with everyone, right? Every week, I go through a different movie that managed to make a list that now strains to stay one one page. What I liked, what I didn't, where you can watch: you have found the movie you've been looking for, and it won't take you a lifetime to see it.
Sabrina
Year: 1995
Genre: Drama/Comedy/Romance
Rating: PG
RT score: 65%
Sabrina Fairchild is a homely chauffer's daughter who grows up in an apartment on the Long Island estate of one of the wealthiest families on the East Coast. She is hopelessly enchanted with the family's youngest son, playboy David Larabee, but he takes no notice of her. She grows up and moves to Paris for a year, during which time she undergoes a Cinderella-like transformation, and returns beautiful and radiant. She now catches the eye of David, but he's engaged- and David's brother Linus will do anything to keep the two apart.
What I liked: Sabrina is cliché in the best possible way. It is a remake of an Audrey Hepburn film of the same name, and Julia Ormond's performance holds that same innocent delight. It's a true romantic comedy, but it remains elegant throughout. It's the kind of soft and beautiful film that delights all audiences, me the very most.
What I didn't like: The movie is very basic. It employs all the traditional "Cinderella" tropes, and the characters are pretty one-sided. While Harrison Ford and Julia Ormond provide a delightful performance, they can't quite fill the shoes of the original Audrey Hepburn and Humphrey Bogart. It takes serious effort to really emote while watching this version, and the path at times feels overdone.
Conclusion: Sabrina, while possibly the best written and made romantic comedy of the 1990s, in itself is not a very good movie. However, it can't help but delight almost every single one of its viewers with its light themes and magical series of events. It never fails to bring a smile to my face, and proves that just because a film is poor in craft, it doesn't mean that it cannot be rich in entertainment. This film is available on Hulu for free with subscription and on Amazon Prime starting at $4.99.
About the Writer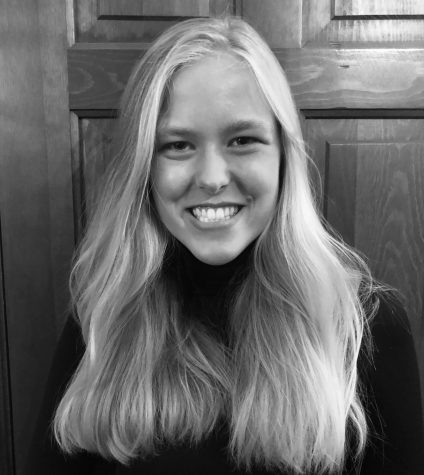 Annie Brown, Editor-in-Chief
Annie Brown is a junior at Homestead High School. She is passionate about education, maternal health, and cancer research, which is why she serves as president...