Movies everyone should see in their lifetime
Movies EVERYONE Should See In Their Lifetime: The Blog
Three years ago, I began, in the study hall of my middle school cafeteria, to draft a list. I titled it "Movies EVERYONE Should See In Their Lifetime." I wanted everyone to fall in love with the movies I had, so I began to add all of my favorite movies to this small, half-a-google doc list. I started taking suggestions, and looking at today's list, I could still tell which movies were suggested by whom. This list became somewhat of my legacy. My friends quiz me on my claims that I know quotes from "every movie on the list" (which is only somewhat true), people I've barely even met already know about my list, and my Instagram polls get pretty heated when I claim Ethan Hunt is way better than James Bond. The natural next step was to share it with everyone, right? Every week, I go through a different movie that managed to make a list that now strains to stay one one page. What I liked, what I didn't, where you can watch: you have found the movie you've been looking for, and it won't take you a lifetime to see it.
Ocean's Eleven
Year: 2001
Genre: Crime/Thriller
Rating: PG-13
Rotten Tomatoes Score: 82%
Ocean's Eleven, a remake that became a trilogy and inspired another remake, is one of the most significant films in American pop culture as of late. It has had a long tradition of bringing together acclaimed actors, and the 2001 version is no different, including actors George Clooney, Brad Pitt, Matt Damon, Julia Roberts, and Andy Garcia, among others. In the film, Clooney's Danny Ocean is released from his robbery sentence on parol in Los Angeles. He immediately departs for Las Vegas and recruits a team of the most highly skilled criminals in the country. His plan: to perform the most daring three-casino heist ever to hit the Vegas strip, and destroy the livelihood of Terry Benedict (Garcia), who took his longtime fiancée (Roberts) while he was in prison. The plot ensues, and the team enacts its incredible heist, always sticking to the same three rules: don't hurt anybody, don't steal from anyone who doesn't deserve it, and play the game like you've got nothing to lose.
What I liked: This is such a classic movie. It's got such a daring atmosphere about it, slick and impressive down to the very last minute. And the acting is top-notch, that's really a given; each player brings his (or her) own unique character that compliments that whole idea of "team." Ocean's Eleven is so jovial and well crafted that we begin to forget the criminality of the whole thing and root for the people on the wrong side.
What I didn't like: It's a blockbuster and a crowdpleaser. To enjoy the movie is to understand its basis, and Ocean's Eleven is not built from intense emotional severity. There's not a lot of depth to it, and the film is very mono-layered. Additionally, the entirety of the plot is kept from the viewer until the end, which exciting to some, can leave those who stay away from surprises agitated.
Conclusion: Ocean's Eleven is one for the ages. In thread with some of the greats such as The Sting and 1960's Ocean's 11, this classic combines superb storytelling with charismatic criminals and sophisticated heists into a riveting and glittery spectacle of filmmaking. Arguably Steven Soderbergh's most iconic film, this movie shines of neon sign and vintage values in the best way possible. It's certainly a must-see, and is fun for a night in or a midday matinee. This film is available on Youtube and Amazon Prime starting at $3.99.
About the Writer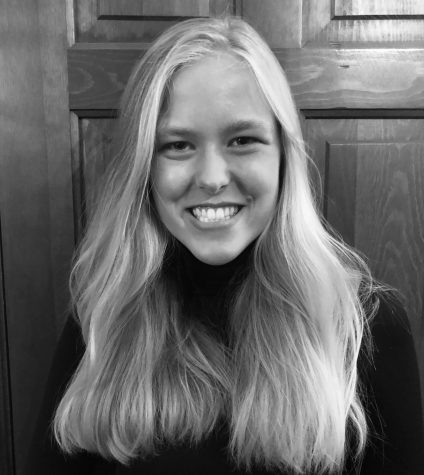 Annie Brown, Editor-in-Chief
Annie Brown is a junior at Homestead High School. She is passionate about education, maternal health, and cancer research, which is why she serves as president...