Movies everyone should see in their lifetime
Three years ago, I began, in the study hall of my middle school cafeteria, to draft a list. I titled it "Movies EVERYONE Should See In Their Lifetime." I wanted everyone to fall in love with the movies I had, so I began to add all of my favorite movies to this small, half-a-google doc list. I started taking suggestions, and looking at today's list, I could still tell which movies were suggested by whom. This list became somewhat of my legacy. My friends quiz me on my claims that I know quotes from "every movie on the list" (which is only somewhat true), people I've barely even met already know about my list, and my Instagram polls get pretty heated when I claim Ethan Hunt is way better than James Bond. The natural next step was to share it with everyone, right? Every week, I go through a different movie that managed to make a list that now strains to stay one one page. What I liked, what I didn't, where you can watch: you have found the movie you've been looking for, and it won't take you a lifetime to see it.
Crazy, Stupid, Love.
Year: 2011
Genre: Romantic Comedy
Rating: PG-13
Rotten Tomatoes Score: 79%
One of the more interesting rom-coms of the decade, Crazy Stupid Love is another well-casted film, starring iconic actors such as Steve Carell, Julianne Moore, Kevin Bacon, Marisa Tomei, Josh Groban, Ryan Gosling, and Emma Stone, among others. It initially centers around the Weaver family, including soon-to-be ex-spouses Cal and Emily (Carell and Moore). However there's more to the story. Throughout the story, we find out how Jacob loves Hannah, Cal loves Emily, Jessica loves Cal, Kate hates Cal, David loves Emily, and Robbie loves Jessica. Sound complicated? It's just crazy, stupid, love.
What I liked: Crazy, Stupid Love is easily my favorite rom-com. And I don't like rom-coms. It's very well made, and the acting is near perfect. It lives up to the genre in that it's actually funny, and the messy and complicated relationships are insanely relatable. As in their other films, Ryan Gosling and Emma Stone as Jacob and Hannah steal the show with their phenomenal chemistry. I even have trouble choosing a favorite scene. I cannot say enough good things, but it just makes me so happy.
What I didn't like: Obviously, I can gush forever about this movie, but I will cede that the ending sucks. There are so many iconic scenes and laugh out loud funny one-liners throughout the movie, but the end scene falls disappointingly flat. Additionally, I was truly surprised to see that this film was rated PG-13 and not R, so while being appropriate for a high school age group, I wouldn't exactly call it family-friendly.
Conclusion: This film is a light, funny, and wonderful trip across the stress of drama and action movies to a comforting and heartwarming world. It deals with very real themes and family circumstances like divorce and unrequited love, but it does it so kindly that a smile remains on our faces the whole time. A little fluffy? Of course, all rom-coms are. But Crazy, Stupid, Love is so well written and acted that it feels mature and never corny. Perfect for a fun night at home. This film is available for free on Amazon Prime and also for free with a Hulu subscription.
About the Writer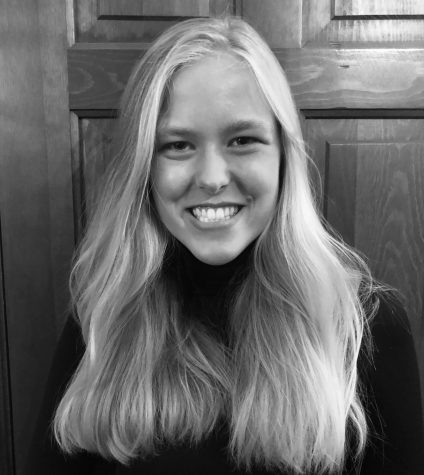 Annie Brown, Editor-in-Chief
Annie Brown is a junior at Homestead High School. She is passionate about education, maternal health, and cancer research, which is why she serves as president...