Movies everyone should see in their lifetime
Three years ago, I began, in the study hall of my middle school cafeteria, to draft a list. I titled it "Movies EVERYONE Should See In Their Lifetime." I wanted everyone to fall in love with the movies I had, so I began to add all of my favorite movies to this small, half-a-google doc list. I started taking suggestions, and looking at today's list, I could still tell which movies were suggested by whom. This list became somewhat of my legacy. My friends quiz me on my claims that I know quotes from "every movie on the list" (which is only somewhat true), people I've barely even met already know about my list, and my Instagram polls get pretty heated when I claim Ethan Hunt is way better than James Bond. The natural next step was to share it with everyone, right? Every week, I go through a different movie that managed to make a list that now strains to stay one one page. What I liked, what I didn't, where you can watch: you have found the movie you've been looking for, and it won't take you a lifetime to see it.
Chocolat
Year: 2000
Genre: Drama
Rating: PG-13
Rotten Tomatoes Score: 62%
The stage is set in a quiet town in the countryside of France. The stone houses are traditional, and the villagers are positively provincial. Every Sunday, the whole town gathers in the local Catholic Church, where the young priest (Hugh O'Conor) is being compelled by the staunch and belligerent mayor (Alfred Molina) to keep the villagers in line with his sermons. However, on the first weekend of Lent, a single mother (Juliette Binoche) named Vianne and her daughter Anouk arrive to change the lives of the townspeople forever. She opens a chocolaterie across the street from the church, and she is met with severe disapproval from her neighbors, especially the mayor. With her worldly chocolates and enticing pastries, Vianne represents to the town the temptation they reject. As the days go on, though, the villagers slowly succumb to her enchantments and her chocolaterie becomes popular. This is much to the chagrin of the mayor, and clear lines are drawn as Easter approaches, especially when an Roma gypsy camp arrives in town and transient Roux (Johnny Depp) spends time at Vianne's chocolaterie.
What I liked: This film is so charming. It's an innocent waltz around the most beautiful parts of France, a fable of love, loss, and the strength that is found both piety and flair. The colors are rich and yet faded, the setting is old and yet new. Its content is real, but the delivery is wonderfully light. It details the pain and beauty in all stages of life, and warms even the most cynical heart.
What I didn't like: Chocolat is a little preachy, and at times anti-religious. While as a Catholic, I think Père Henri is the best character in the whole movie, this film at times does take a clear stance on the subject of religious severity. It's easy to find fault with such a fluffy parable, and the critics certainly did.
Conclusion: Chocolat is worth the watch, I believe that entirely. It treats the viewers gently and, though it was pretty preachy, the pure and poetic nature of the film more than makes up for it. It's a stunningly beautiful look at life, and the incredible French countryside setting doesn't hurt, either. Chocolat is perfect for a drizzly spring afternoon, delightful to all looking for a pleasant respite in a great movie. This film is available for free with a Hulu subscription, and on Amazon Prime starting at $3.99.
About the Writer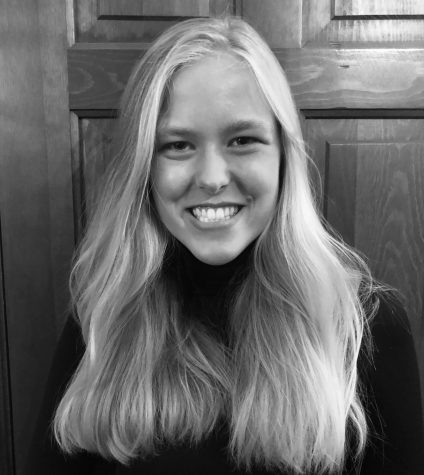 Annie Brown, Editor-in-Chief
Annie Brown is a junior at Homestead High School. She is passionate about education, maternal health, and cancer research, which is why she serves as president...