Movies everyone should see in their lifetime
Movies EVERYONE Should See In Their Lifetime: The Blog
Three years ago, I began, in the study hall of my middle school cafeteria, to draft a list. I titled it "Movies EVERYONE Should See In Their Lifetime." I wanted everyone to fall in love with the movies I had, so I began to add all of my favorite movies to this small, half-a-google doc list. I started taking suggestions, and looking at today's list, I could still tell which movies were suggested by whom. This list became somewhat of my legacy. My friends quiz me on my claims that I know quotes from "every movie on the list" (which is only somewhat true), people I've barely even met already know about my list, and my Instagram polls get pretty heated when I claim Ethan Hunt is way better than James Bond. The natural next step was to share it with everyone, right? Every week, I go through a different movie that managed to make a list that now strains to stay one one page. What I liked, what I didn't, where you can watch: you have found the movie you've been looking for, and it won't take you a lifetime to see it.
Hotel Rwanda
Year: 2004
Genre: Historical Drama
Rating: PG-13
Rotten Tomatoes Score: 91%
In April 1994, the Hutu majority in Rwanda violently murdered almost a million Tutsis and Tutsi supporters in one of the most atrocious genocides in modern history. Hotel Rwanda tells the incredibly true story of hotelier Paul Rusesabagina, a Hutu man who saved over 1,200 Tutsis by hiding them in his hotel. Compelled at first by his Tutsi wife and children, Paul reluctantly began taking refugees into the Hôtel des Mille Collines because he simply could not let them die. But as the massacre continued, Paul relied on all of his connections, substantial bribes, and the support of UN peacekeeper Colonel Oliver to save hundreds of orphans and refugees from the killing. This Academy Award-nominated drama is equal parts horrifying and inspiring, and provides an intimate, critical look into international policy and the terrible evil of ethnocentrism.
What I liked: This film is absolutely incredible. I was rocked to my core, not only by the horrible atrocities of the killing, but also the undying heroics of Paul Rusesabagina, the hotel owner who put his life in danger, who accepted the likely fate of his death for supporting the Tutsis and saved so many. Every scene is rich with grief and pain, and it presents an overwhelmingly human story of good and evil.
What I didn't like: Hotel Rwanda depicts horrifically true events. In just 100 days, 800,000 + Tutsis were violently murdered, and the film does not shy away from what happened. From the psychological trauma of the victims to the terrifying words of the perpetrators, it is absolutely scarring. The content is very heavy, and that's something it's hard for a lot of viewers to handle.
Conclusion: Hotel Rwanda is, without a doubt, one of the most life-changing movies I have ever seen. It gives viewers an intimate understanding of one of the most horrific events in human history, a feat so difficult for filmmakers today. Important, also, was the depiction of the UN and non-African countries throughout the movie. The powerful statements it makes about race are ones that often go by the wayside in movies like this. There is so much content, but every terrifying facet of the Rwandan genocide comes to light. This film is available for free with a Hulu or Starz subscription, or on Amazon Prime starting at $0.99.
About the Writer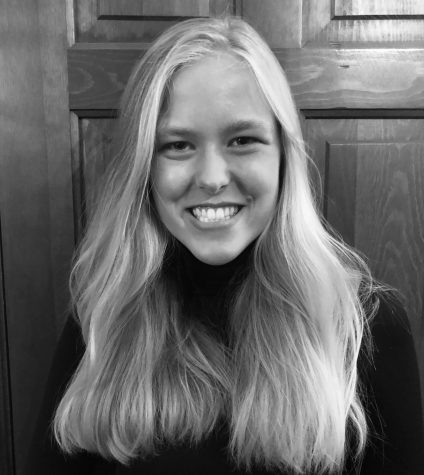 Annie Brown, Editor-in-Chief
Annie Brown is a junior at Homestead High School. She is passionate about education, maternal health, and cancer research, which is why she serves as president...