Movies everyone should see in their lifetime
Four years ago, I began, in the study hall of my middle school cafeteria, to draft a list. I titled it "Movies EVERYONE Should See In Their Lifetime." I wanted everyone to fall in love with the films I adored, so I began to add all of my favorite movies to this small, half-a-google doc list. I started taking suggestions, and looking at today's list, I could still tell which movies were suggested by whom. This list became somewhat of my legacy. My friends quiz me on my claims that I know quotes from "every movie on the list" (which is only somewhat true), people I've barely even met already know about my list, and my Instagram polls get pretty heated when I claim Ethan Hunt is way better than James Bond. The natural next step was to share it with everyone, right? Every week, I go through a different movie that managed to make a list that now strains to stay on two pages. What I liked, what I didn't, where you can watch: you have found the movie you've been looking for, and it won't take you a lifetime to see it.
Almost Famous
Year: 2000
Genre: Drama
Rating: R (language, substances, light nudity)
Rotten Tomatoes Score: 89%
William Miller is unique, or so his mother Elaine says. A sixteen-year-old preparing to graduate high school in San Diego, 1973, William says he's destined to become a lawyer. However, his true passion is writing, specifically writing about rock music, much to Elaine's chagrin. His talent is instantly noticed, and one day he gets the assignment of a lifetime: to work for Rolling Stone Magazine in its hay day, following his favorite band, Stillwater, on their tour across America. On his journey, he finds himself, the meaning of life, and a flighty "Band-Aid" named Penny Lane. Cameron Crowe's semi-autobiographical story of a boy tossed into the "Valhalla decadence" of 1973 rock-n-roll, of a nameless groupie tied to no one and nowhere, and their search for the "real world", a place on the cusp of pure metaphor, may draw you so deeply into this incredible world that you will want to stay forever.
What I liked: We've found it, folks. My favorite movie of all time . Just the thought of this film gives me goosebumps. Almost Famous is a film lover's film, and a music lover's dream. The soundtrack alone is enough to make this film worthwhile. Led Zeppelin, Elton John, The Who, Simon and Garfunkel, Joni Mitchell, more; almost all of the most iconic artists from the era are represented here. Then, there's the acting. Kate Hudson as Penny Lane is just heart-wrenching. Billy Crudup plays a flawed cool-boy in Russell Hammond. Patrick Fugit as William Miller is the perfect performance of a kid coming to grips with rock writing at its darkest, Zooey Deschanel is rebellious sister Anita, the late Philip Seymour Hoffman is wise and tortured Lester Bangs, delivering the most incredible lines flawlessly. We even see Frances McDormand here playing mother Elaine Miller, absolutely stealing the show with her portrayal of both wit and angst. It's funny, honest, exciting, and best of all, it's even kind of true. You can easily see where Cameron Crowe drew from his own life in the characters, and that is absolutely incredible.
What I didn't like: Clearly, I live and die for this film. However, others have pointed out to me some flaws that are certainly valid and worthy of some thought here. First is the length. In a world of increasingly short films, 2 hours and 42 minutes is just too much for some viewers. The plot is complex, so some watches feel like marathons. Additionally, the soundtrack and setting really rely on the audience's appreciation of late 60s-early 70s rock music. As someone who grew up on the Allman Brothers and Led Zeppelin, that wasn't too much of a stretch for me, but it definitely can be if you're unfamiliar with the era.
Conclusion: For me, Almost Famous is about as close as one can get to a perfect movie. Not only is it masterful in writing, directing, cinematography, score, set, and acting, but it is really a complete fan favorite. Almost everyone I've ever recommended this film to has liked it. It seamlessly engages that feel-good tone with some truly resonant themes of growing up, growing old, growing apart, and growing together. At one point, Almost Famous lifts us up above corporeal nothingness and to a new and glittering realm of once-in-a-lifetime films that will remain with you forever. Am I a little biased? Of course! But of all "Movies Everyone Should See In Their Lifetime," this one is at the top of the list.
About the Writer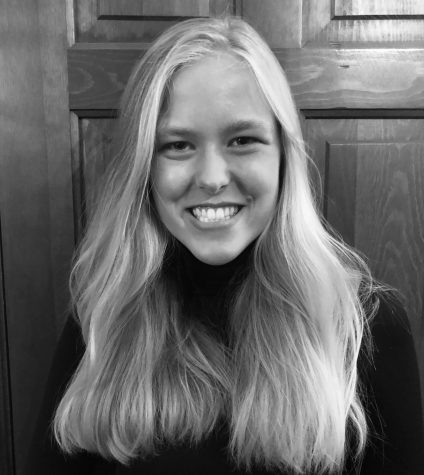 Annie Brown, Editor-in-Chief
Annie Brown is a junior at Homestead High School. She is passionate about education, maternal health, and cancer research, which is why she serves as president...