Movies everyone should see in their lifetime
Four years ago, in the study hall of my middle school cafeteria, I began to draft a list. I titled it "Movies EVERYONE Should See In Their Lifetime." I wanted everyone to fall in love with the films I adored, so I began to add all of my favorite movies to this small, half-a-google doc list. I started taking suggestions, and looking at today's list, I could still tell which movies were suggested by whom. This list became somewhat of my legacy. My friends quiz me on my claims that I know quotes from "every movie on the list" (which is only somewhat true), people I've barely even met already know about my list, and my Instagram polls get pretty heated when I claim Ethan Hunt is way better than James Bond. The natural next step was to share it with everyone, right? Every week, I go through a different movie that managed to make a list that now strains to stay on two pages. What I liked, what I didn't, where you can watch: you have found the movie you've been looking for, and it won't take you a lifetime to see it.
Dead Poets Society
Year: 1989
Genre: Teen Drama
Rating: PG
Rotten Tomatoes Score: 84%
The four tenets of life at Welton Boy's Academy in Vermont are tradition, honor, discipline, and excellence. These values are ingrained in the minds of the boys who attend, no more so than in best friends Neil, Richard, Stephen, Knox, Gerard, Charlie, and newcomer Todd. Each boy has their own story, from Neil with his domineering father and passion for theater, to nerdy Knox pursuing his friend Chris, a popular girl at the local high school. But for the most part, all is well with the Welton boys… at least until unorthodox English teacher John Keating arrives. Keating and the boys are swept up in a passionate and brief whirlwind of literature, a moment of fantastical freedom, pain, and madness, all surrounding a group of Keating's own creation: the Dead Poets Society.
What I liked: Robin Williams was a titan of acting. I have never seen a performance of his that I did not like, and Dead Poets is no exception. As John Keating, he creates this wholly three-dimensional figure, a character who is both a god to these boys and a completely flawed man at odds with himself. Around him are more phenomenal performances: Robert Sean Leonard and Ethan Hawke as unintentional best friends (maybe more? I always wanted them to be more) are just so captivating. But more than anything, more than the perfect acting, more than the stunning plot, more than the aesthetically brilliant prep school ambience, I lived for the script. It's the stuff of teenage "finding yourself" dreams, so woefully, wonderfully angsty and dramatic.
What I didn't like: For one, the lack of diversity in this film (and others that I've reviewed) is disappointing. I think the film industry as a whole is making strides to be far more inclusive, but it's always important to recognize these shortcomings. Additionally, parts of this film are controversial (and were very controversial at the time of release) because of how they glorified certain things and brushed over others. For sake of spoilers, I won't explain more, but the movie could have been more responsible in many ways.
Conclusion: I hate how much I love this movie. Dead Poets Society is the classic "feelings" film, the movie that resonates with every single teenager who has ever found their identity bound by outside forces. I hate how normal my absolute reverence for this film makes me, and the irony here is that it's partially Dead Poets at fault for making me averse to normalcy at all. It hits home specifically for our age group, and while mildly pretentious and melodramatic, it's still so poignant and meaningful that I feel my love for this movie transcends the cliché and, paradoxically, unites me in nonconformity with the rest of the teenagers who feel the same. This film is available for free with an Amazon Prime or Hulu subscription, and with Homestead Film Club virtually this Friday at 1pm.
About the Writer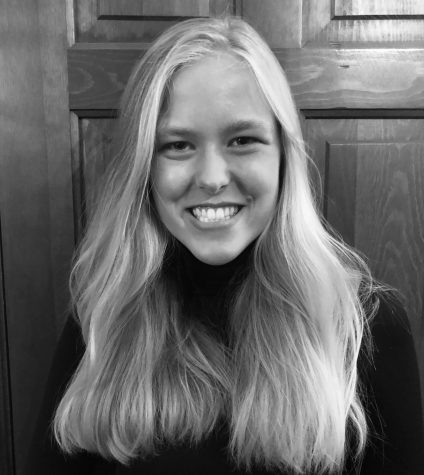 Annie Brown, Editor-in-Chief
Annie Brown is a junior at Homestead High School. She is passionate about education, maternal health, and cancer research, which is why she serves as president...