Movies everyone should see in their lifetime
Four years ago, in the study hall of my middle school cafeteria, I began to draft a list. I titled it "Movies EVERYONE Should See In Their Lifetime." I wanted everyone to fall in love with the films I adored, so I began to add all of my favorite movies to this small, half-a-google doc list. I started taking suggestions, and looking at today's list, I could still tell which movies were suggested by whom. This list became somewhat of my legacy. My friends quiz me on my claims that I know quotes from "every movie on the list" (which is only somewhat true), people I've barely even met already know about my list, and my Instagram polls get pretty heated when I claim Ethan Hunt is way better than James Bond. The natural next step was to share it with everyone, right? Every week, I go through a different movie that managed to make a list that now strains to stay on two pages. What I liked, what I didn't, where you can watch: you have found the movie you've been looking for, and it won't take you a lifetime to see it.
Before Sunset
Year: 2004
Genre: Romance/Drama
Rating: R (language)
Rotten Tomatoes Score: 95%
"I guess when you're young, you just believe there'll be many people with whom you'll connect. Later in life, you realize it only happens a few times."
It's been nine years since Jesse and Celine spent their fated night in Vienna, and everything has changed. Jesse is the best-selling author of a "fictional" novel about a man who meets a woman on a train and spends an entire night with her, and Celine resides in Paris and works for a nonprofit. However, viewers feel a pang of déja vû as we visit Jesse on the last leg of his book tour, having an afternoon to spend in Paris before an evening flight. Celine finds him in a bookstore and the two spend the next few hours walking through a new city, rehashing years spent in a completely different world than they had as wandering 20-somethings all those years ago. Before Sunset is a sweet and nostalgic sequel that effortlessly continues Jesse and Celine's story in an intimate look at the trials and responsibilities of growing up.
What I liked: Even the best sequels are often a pale attempt at recreating the original film. However, Before Sunset took an entirely different thematic approach. It's not the same story at all, and you feel as if Jesse and Celine are almost entirely different people than they were before. It was genuinely as if real time had passed, as if these characters were real and we, as viewers, were just stepping into their lives, instead of them into ours. Through a similar lens as the first film, we see how even the most fleeting of relationships remain in our hearts forever, and in the same vein realize that Jesse and Celine's relationship existed longer in their minds than it ever did in reality. Such a theme creates a really incredible blur of dream and reality that somehow combines the jading wisdom of adulthood with the magic of true human connection.
What I didn't like: While as a stand-alone film, Before Sunset is amazing, I definitely felt the "second movie slump" phenomenon with this installment of the trilogy. Jesse and Celine are still just walking around a city for most of the film, so if you were turned away by that plotline before, it probably won't still be your movie. Beyond that, though, the subject areas of their conversations are a lot more… depressing. Instead of the hopefulness so often characteristic of the young adults Jesse and Celine were in Before Sunrise , the conversations are more along the lines of regret, sadness, and missed expectations. There is beauty in their words, but it's more learnt beauty than idealistic love affairs.
Conclusion: I honestly don't know how the writers of these films manage to encompass nearly everything essential about the world into the movies. It's almost as if they are a collection of essays devoted to understanding the stories of our lives, the ontological dilemmas that we wade through every day of our lives. Every glance, every word spoken, every word unspoken, every moment of this film circles around the human experience in its rawest form. I truly cannot say enough good things; Richard Linklater and Kim Krizan are gods come to Earth. Come back next week to hear what I think of the final installment in the Before trilogy: Before Midnight . In the meantime, this film is available for free with a Starz or Hulu subscription or on YouTube starting at $2.99.
Leave a Comment
About the Writer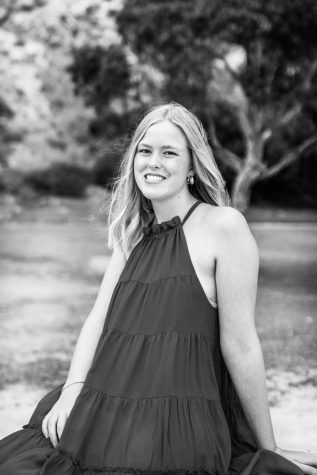 Annie Brown, Editor-in-Chief
Annie Brown is a senior at Homestead High School. She is passionate about education and community service, serving as a youth ambassador for the Ronald...