Movies everyone should see in their lifetime
Four years ago, in the study hall of my middle school cafeteria, I began to draft a list. I titled it "Movies EVERYONE Should See In Their Lifetime." I wanted everyone to fall in love with the films I adored, so I began to add all of my favorite movies to this small, half-a-google doc list. I started taking suggestions, and looking at today's list, I could still tell which movies were suggested by whom. This list became somewhat of my legacy. My friends quiz me on my claims that I know quotes from "every movie on the list" (which is only somewhat true), people I've barely even met already know about my list, and my Instagram polls get pretty heated when I claim Ethan Hunt is way better than James Bond. The natural next step was to share it with everyone, right? Every week, I go through a different movie that managed to make a list that now strains to stay on two pages. What I liked, what I didn't, where you can watch: you have found the movie you've been looking for, and it won't take you a lifetime to see it.
Rear Window
Year: 1954
Genre: Thriller/Mystery
Rating: PG
Rotten Tomatoes Score: 97%
In one of the most critically acclaimed films from one of the most famed directors of all time, Rear Window brings us Alfred Hitchcock's suspenseful tale of the kind of trouble we get up to while stuck at home. L.B. "Jeff" Jefferies (James Stewart) is a convalescent photographer, wheelchair bound after an accident on the job weeks earlier. Through the lens of his camera, Jeff sees the neighbors in the apartment across the street, from "Mr. Pianist" to "Miss Lonelyhearts," to Lars Thorwald, whose wife disappeared from the window one stormy night. When Jeff's girlfriend (Grace Kelly) shows up, he presents his concerns to her and the couple, along with Jeff's nurse Stella (Thelma Ritter) starts looking for evidence that Thorwald killed his wife. Hitchcock delivers another intense and riveting thriller in Rear Window that will keep you on the edge of your seat.
What I liked: For most of my life, Rear Window was my favorite movie. Of all of Hitchcock's films, from iconic Psycho to Vertigo , which was widely considered his masterpiece, Rear Window often falls by the wayside. However, there is not a Hitchcock movie that I return to quite so frequently as this; it's nearly perfectly crafted in every way. It has a unique plot with some ingenious devices: Jeff suspects a murder, but the evidence is only in his watchful eye. He is completely wheelchair-bound throughout the film, which lends itself to some intensely suspenseful scenes because of his relative helplessness in the goings-on of the apartment across the way. Grace Kelly is riveting, as always, and she sparkles in the Edith Head dresses of little girls' dreams while still keeping this independent and honest character alive throughout. She and Jimmy Stewart have such a cool reparté during the film as well, it adds a certain lightness to the otherwise intense movie.
What I didn't like: Some parts of this movie feel just a little bit slow. The exposition is dragged out while we wait for our murder to occur, and then much of the film is just Jeff trying to convince others of what he witnessed. The real spine-chilling Hitchockian moments occur almost entirely at the end. Additionally, though many of the elements of the film were groundbreaking for 1954, some effects feel slightly corny with today's multi-million dollar projects.
Conclusion: For all the faults of Alfred Hitchcock the man, he could sure make an incredible film. Rear Window is the suspense movie to end all suspense movies. You haven't lived until you are watching Grace Kelly desperately scale a dark fire escape whilst fleeing… in heels. Hitchcock is called the master of suspense for a very good reason. His films engage the audience in such a profound way; Rear Window evokes that heart-pounding sheer terror that makes viewers feel as if they are really experiencing these action sequences. It's exciting and complex and so, so worth the watch. This film is available on YouTube and Amazon Prime starting at $3.99.
About the Writer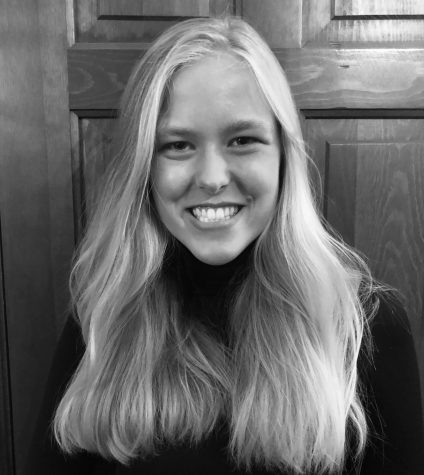 Annie Brown, Editor-in-Chief
Annie Brown is a junior at Homestead High School. She is passionate about education, maternal health, and cancer research, which is why she serves as president...