Movies everyone should see in their lifetime: The Academy Awards
This 92nd Academy Awards, we seek to illuminate the Best Picture Nominations and establish them as some of the best films of the year. Each day, the reviews for two movies will be published, written by various Homestead students. Today's featured nominees are Jojo Rabbit and Ford vs Ferrari, reviews written by Ana Jaquez Zarate, sophomore, and Olivia Cagle, sophomore, respectively.
We didn't forget Little Women, but, in fact, we already wrote about it! Go check it out on the original blog post!
Jojo Rabbit
Year: 1942
Genre: Satire/black comedy/drama
Rating: PG-13
Rotten Tomatoes Score: 80%
Academy Award Nominations: Best Picture, Best Supporting Actress, Best Adapted Screenplay, Best Costume Design, Best Production Design, Best Film Editing
Taika Waititi's newest satire, Jojo Rabbit narrates the life of Johannes "Jojo" Betzler, a ten year old Hitler youth member. Fascinated by Germany and swastikas, Jojo's imaginary companion is no other than his idol–Adolf Hitler. While exploring his home, Jojo discovers Elsa Korr, a Jewish girl in hiding. After deciding to protect his mother, he agrees to keep her identity a secret and write an exposé on Jews. Jojo must then face his blind nationalism as the war approaches, all with his best friend, Hitler.
What I liked: Not only does Jojo Rabbit take a novel direction than most war films, it also adds an air of comedy and youthfulness to its dark themes. The film manages to take both elements from movies like Wes Anderson's Moonrise Kingdom and Steven Spielberg's Schindler's List to create a comedic yet beautiful film with complex societal themes. The cinematographer's use of primary colors reminds the audience of childhood, yet its muted tone creates an elegant and serious historical feel. Not only is the cinematography captivating, but Roman Griffin Davis's Jojo and Thomasin Mackenzie's Elsa gracefully portray an intensely rich dynamic which tugs at heartstrings. Scarlett Johanssen's beautiful portrayal of Rosie Betzler is one to fall in love with. The writing creates a complexity between Jojo's seemingly happy childhood while showing the atrocities of the war. The film never seems to downplay the suffering caused by the Third Reich, it instead highlights it through a different lens. As the film progresses, Jojo's seemingly playful imaginary Hitler morphs into a more realistic portrayal, paralleling the actual plot. This careful writing helps the movie avoid an offensive, casual tone by highlighting Jojo's blind trust in the German Nazi propaganda. Jojo Rabbit provides insights into moral and societal issues faced both in the past and present, while still remaining enjoyable.
What I disliked: The balance of comedy and drama in Jojo Rabbit was nearly perfected, however the film could have used more depth while exploring its darker themes of grief and death. Also, while Waititi is often praised for his style of humor, some disagreed with the comedic choices, causing occasional jokes to fall flat amongst certain viewers, mainly critics.
Conclusion: While the film's love-it-or-hate-it tendency polarized many critics, it managed to be well liked by audiences, earning it a 95% audience score on Rotten Tomatoes–the second highest among nominees. Boasting an outstanding cast with a charming yet intricate storyline, this film is definitely a must see for everyone. Jojo Rabbit has the ability to bring audience members to tears all while remaining a comedic feel-good film. While unlikely, some have speculated a Best Picture win for Jojo Rabbit due to its generally positive audience reception. This one-of-a-kind movie is currently available for purchase on Amazon Prime for $19.99.
Ford vs Ferrari
Year: 2019
Genre: Drama/Sport
Rating: PG-13
Rotten Tomatoes Score: 92%
Academy Award Nominations: Best Picture, Best Sound Mixing, Best Sound Editing, Best Film Editing
James Mangold's exhilarating, speed-filled drama has already seen great success in the box office and critic reviews since its release in August. Ford vs. Ferrari sounds like a self explanatory title, but in reality, the film is less about the rivalry between the two car companies, but the conflict within Ford Motor itself. Caroll Shelby (Matt Damon) and Ken Miles (Christian Bale) find themselves chasing the same dream despite their polarizing personalities: to beat Ferrari at the 24 hours of LeMans in 1966, and to create a truly fast Ford racecar. To achieve this, though, they both will have to navigate the power struggle between the executives at Ford. Throughout the film, the intense and crisp sounds created by the racecars will make you feel like you are in the passenger seat next to Miles, and the editing creates a palpable essence of suspense and high stakes. For those reasons (and many more) this fast paced and lovable film is nominated for several awards at the 92nd Annual Academy Awards.
What I Liked: From the very beginning, I was spellbound by how incorrect my assumptions were about this movie. Even from the trailer I assumed this would be a "dad" movie and that it would be a waste of nearly three hours. Boy, was I wrong. Impeccable acting matched with a fast-moving plot made for a captivating story. If you watch closely, Shelby's exposition is extremely nuanced and you find yourself getting to know him through his small interactions (And NOT chunky expositional dialogue! *cough* Little Women *cough*). Additionally, Damon and Bale's chemistry was so effortless that I felt like I was watching the real Shelby and Miles onscreen. The pure talent added so much to the film. As the movie progressed, I began to realize how interested I became with the actual plotline, not just the aesthetics and cinematography. Besides giving the viewer something pleasant and attractive to imbibe, the point is to share a story worth telling, and I think that is exactly what this film accomplished. You will not regret stepping out of your cinematic comfort zone for Ford vs Ferrari.
What I Didn't Like: I found myself wondering about Ken Miles' wife, Mollie, (Catriona Balfe) and her experience with the automobile and racing industry. At two specific points in the movie, they hint that she is well-versed in the lexicon of auto-body and car models. I wish the director would have explored her character a little more. This also goes for Leo Beebe, played by Josh Lucas. There was a lot behind Beebe that we did not see, and they could have specifically explored his motives and why he strove for superiority over Shelby.
Conclusion: Ford vs Ferrari is, despite all the award nominations, a hidden gem for people like me. It surprised me (and the critics!) in the best possible way, and it is without a doubt worth a watch. The more violent and intense scenes are played off as comedic and they make it less frightening. The casting was spot on, and in my personal opinion, Christian Bale should have been nominated for his role as Miles. Watching this movie will make you, as Ken Miles himself would say, ♫ H-A-P-P-Y!! ♫ This film is available in theaters and on Amazon Prime to purchase for $19.99.
Leave a Comment
About the Writers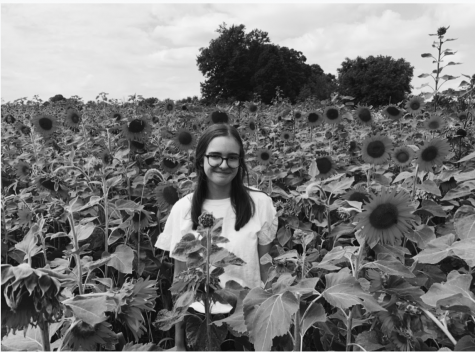 Olivia Cagle, Assistant Editor
Olivia Cagle is a junior at Homestead. She is dedicated to her board positions in clubs such as GEMS, Film club, She's the First, and WE club, and she...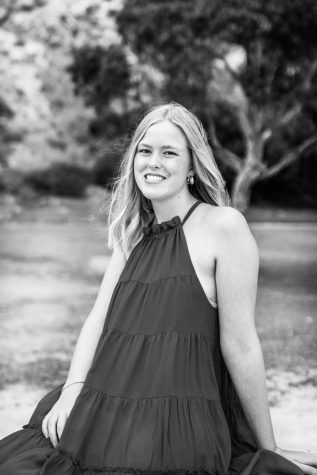 Annie Brown, Editor-in-Chief
Annie Brown is a senior at Homestead High School. She is passionate about education and community service, serving as a youth ambassador for the Ronald...