Movies everyone should see in their lifetime
Four years ago, in the study hall of my middle school cafeteria, I began to draft a list. I titled it "Movies EVERYONE Should See In Their Lifetime." I wanted everyone to fall in love with the films I adored, so I began to add all of my favorite movies to this small, half-a-google doc list. I started taking suggestions, and looking at today's list, I could still tell which movies were suggested by whom. This list became somewhat of my legacy. My friends quiz me on my claims that I know quotes from "every movie on the list" (which is only somewhat true), people I've barely even met already know about my list, and my Instagram polls get pretty heated when I claim Ethan Hunt is way better than James Bond. The natural next step was to share it with everyone, right? Every week, I go through a different movie that managed to make a list that now strains to stay on two pages. What I liked, what I didn't, where you can watch: you have found the movie you've been looking for, and it won't take you a lifetime to see it.
The Truman Show
Year: 1998
Genre: Thriller/Drama
Rating: PG
Rotten Tomatoes Score: 95%
Truman Burbank (Jim Carrey) has a perfect life. He was born and raised on Seahaven Island, a waterfront paradise that he has no intentions to leave, even if it wasn't for his crippling aquaphobia. His cheerful demeanor makes him a hit with all of the neighbors, and he receives unconditional support from his doting mother, longtime best friend Marlon, and college sweetheart (Laura Linney). In short, Truman is an everyman. However, things are not as they seem. He is haunted by the memory of a woman he loved once, Sylvia, who told him that he was living a lie. She confessed to him years before that she was an extra in the television show of his life, broadcast all over the world…and then she disappeared. Even though he is now happily married, Truman still cannot piece together the puzzle of Sylvia's revelations and disappearance, and her words stay with him as he starts to uncover inconsistencies in everyone and everything he once thought was real. This cult classic is the Twilight Zone-esque story of crippling reality and one man's struggle between comfort and security, and freedom to know the world as it truly is.
What I liked: There are some films where the concept alone is enough to create a great movie, and The Truman Show is one of them. Everyone has presented to themselves at least once in his life the idea that we all live in a "simulation," that someone has crafted a world that lies to keep us where we are. In this movie, that paranoia is personified and perfected. Jim Carrey's Truman is a captivating and relatable character, and viewers can experience that cognitive dissonance alongside him as he begins to realize that nothing in his life is true. Ed Harris plays an excellent Antichrist character in Christof, the dedicated producer of "The Truman Show." His megalomaniacal persona is riveting, but he seems to have some genuine care for his "creation."
What I didn't like: I love this movie, but I don't like Jim Carrey. Never have, probably never will. It's a totally personal thing, but is my main caveat with this film. Also, I've known some people to be really freaked out by this film and the psychological ideas it stirs up. Watch with caution, especially if you're the type of person uncomfortable with that terrifying social-psychological style thriller; it can be a lot .
Conclusion: If you're in the mood for an existential crisis, watch The Truman Show . If you're feeling content or complacent in your life, watch The Truman Show . If you think Laura Linney would be a really cool "villain," watch The Truman Show . Besides Dead Poets Society , this film is probably director Peter Weir's greatest, and one of those movies that is a pop-culture necessity. As soon as you watch it, you'll see The Truman Show references everywhere. This film is available for free with a Hulu or Amazon Prime subscription, or on YouTube for $2.99.
About the Writer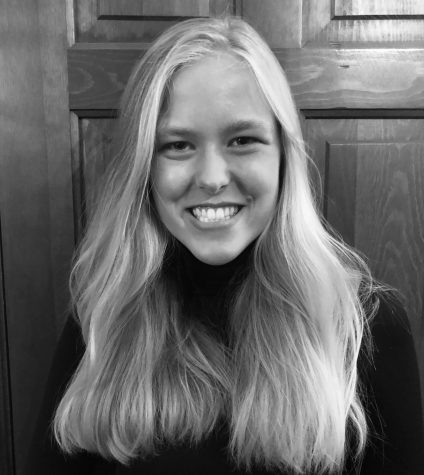 Annie Brown, Editor-in-Chief
Annie Brown is a junior at Homestead High School. She is passionate about education, maternal health, and cancer research, which is why she serves as president...